A blend of coffees from Sumatra + Ethiopia feat. notes of dried fruits, vanilla + baking spices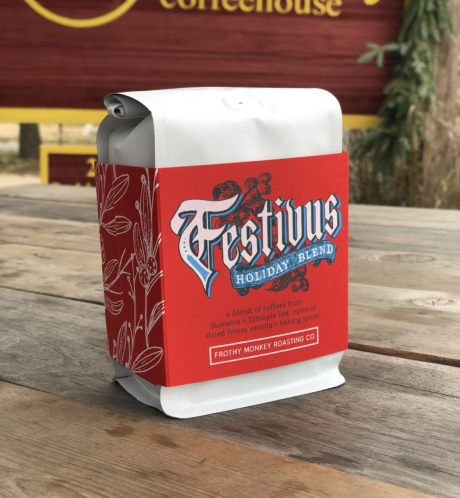 For the holidays we combine two very different and complex coffees from Sumatra and Ethiopia. For the 2018 Festivus Blend, we have once again selected two of the finest coffees Sumatra and Ethiopia have to offer.
We commissioned local artist, Neal Russler to hand letter the Festivus art and the packaging was screen printed in Nashville, TN by Grand Palace.
This year's Ethiopian component is a naturally processed coffee from the Konga cooperative, grown in the world famous Yirgacheffe region. This complex coffee adds plenty of dark fruit notes to the blend, such as cherry and blueberry.  
The Sumatran component comes from the famed Aceh region in northern Sumatra.  Here the coffees are picked at peak ripeness and then processed in the "wet hull" method that has made Sumatra famous for their flavor profile. Our 2018 Festivus Blend adds plenty of depth with notes of vanilla, oak, and baking spices.   
Together, these coffees create our version of one of the world's original coffee blends, Mocha Java.  
Festivus Blend will be available at all Frothy Monkey locations and from our online store throughout the holiday season!
Order Now