You are invited to Frothy East's 1st Birthday
Grand Opening Do-over
Where: Frothy East at 1701 Fatherland St., Nashville, TN 37206
When: Monday, March 22, 2021 7am – 8pm
---
Our first year at Frothy East has been weird y'all, and we couldn't have done it without you! We won't let a natural disaster and pandemic get us down so we're celebrating our first birthday with a grand opening do-over by offering specials from open to close on Monday, March 22, 2021, including complimentary coffee & cake, lunch & brunch cocktail specials, and Wine Down Monday.
---
Grand Opening Do-Over Schedule of Events for 3/22/21*:
7am-9am
Complimentary 8oz drip coffee  In-store and to-go with a promo code "37206" (limit 1 per person) AND 2 for 1 mimosas and bloody marys (8am-9am).
10am-1pm
10% off online orders with curbside pickup at frothymonkey.com using promo code "37206"
2pm-4pm
Coffee break! Free slice of birthday cake with coffee purchase. In-store (limit 1 per person)
4pm-8pm
Wine Down Monday: $16 plus tax per person for a flight of 3 wines + your choice of an individual cheese board or $4 off of an entree from the dinner menu.
*Specials are available at the East Nashville location only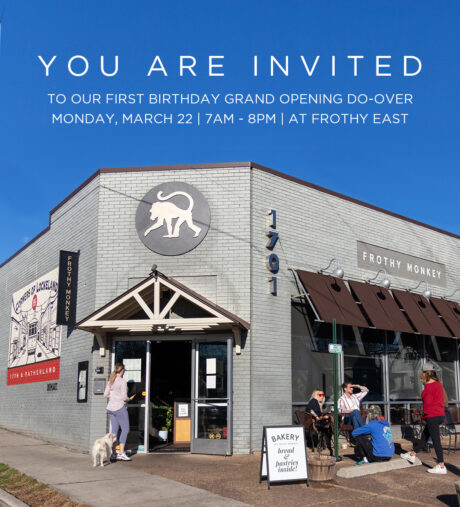 More about our first year:
Monday, March 22, 2021 marks one year since Frothy Monkey East (1701 Fatherland St.) opened amidst a pandemic shutdown in the middle of a neighborhood recovering from a natural disaster. As COVID-19 forced shutdowns, they quickly adjusted, pivoted, and made difficult decisions. Opening in March of 2020 was anything but typical, offering a limited menu, that also included essentials such as milk, bread, flour, and eggs, for take-out only. As things have gradually opened up over the past year, Frothy East has been able to add limited seating, staff and the ingredients needed to offer the full regular menu.
"The one-year birthday of Frothy East conjures bittersweet memories. There is no playbook for any of this and it has been one of our toughest years, but we are creative, innovative, and scrappy", said Ryan Pruitt, Managing Partner, and long time East Nashville resident. "We are looking forward to having a proper 'opening' party with the neighbors at some point, but in the meantime, we will be celebrating making it through this year by offering specials all day long."