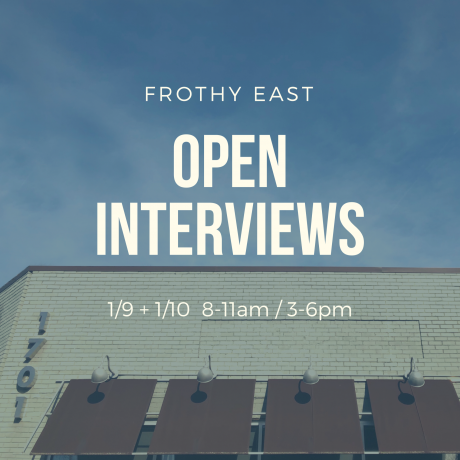 We will be opening a Frothy Monkey in the Lockeland Springs neighborhood of East Nashville- official opening date TBD (more on that here). We're looking for optimistic, warm individuals who work well in teams and independently. Willing to smile often and abundantly and take pleasure in making others happy. Please fill out our general application if you are interested in joining our Frothy East family or attend one of our open interview dates!
Join us for OPEN interviews
Location: 1701 Fatherland St., Nashville, TN 37206
Dates + Times:
Thursday, January 9
8a-11a or 3p-6p
Friday, January 10
8a-11a or 3p-6p
 Please bring a resume to the interview if you have one.
Frothy Monkey offers an inclusive and creative workplace. Our team members have the opportunity to collaborate with others, grow professionally, and contribute to a growing company. We extend hospitality to our guests and to each other. We offer generous benefits for full time employees including health insurance, company HSA contributions, paid time off (for salaried positions), free parking (for our Avenue of the Arts location in Downtown Nashville), and competitive pay for all positions.
Within 90 days of hire, all full-time employees are eligible for competitive health, dental, vision and HSA benefits.
Our core values are the fundamental beliefs of our organization. They are Quality, Relationships, Warmth, Grit, Growth + Development, and Execution. These guiding principles dictate our behavior, support our vision, and shape our culture.
We use quality ingredients to prepare original food and drink, served in a cozy and approachable atmosphere. We focus on an exceptional breakfast through dinner experience for our guests- 7 days a week, 363 days a year. Frothy Monkey has been voted 'Best Coffeehouse' and 'Best Service' in the Nashville Scene Best of Nashville Awards. Find more information about
Awards + Other Proud Moments here
or by visiting frothymonkey.com/awards