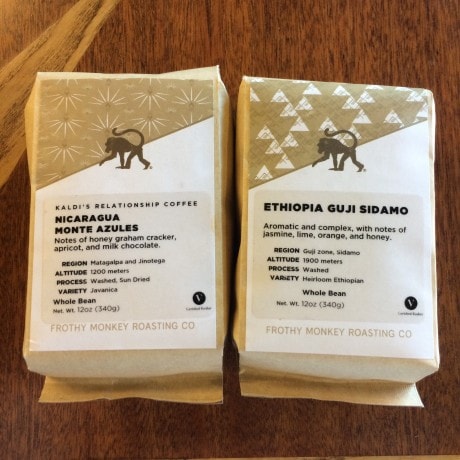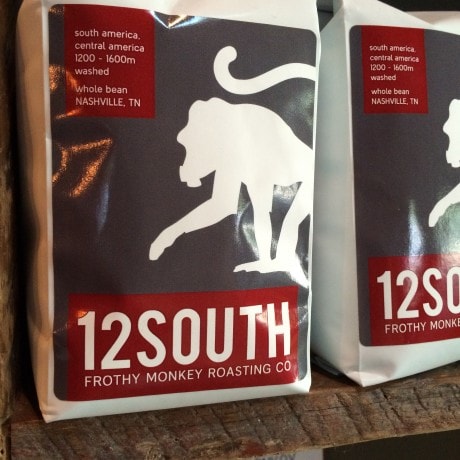 Introducing 12South Blend, formerly known as Frothy Monkey blend, in new updated packaging. This coffee is roasted here in Nashville and the new name honors our original home in the 12South neighborhood. Also, discover our Single Origin coffees. Bags are now available for purchase online and at all of our locations! #frothymonkeyroastingco
12South Blend (formerly known as Frothy Monkey blend), is our signature espresso blend which also makes great drip coffee, is sweet throughout, with balanced acidity, smooth body, and a caramel chocolate finish.
Unlike coffee blends, Single Origin Coffee has a single geographic origin. This could be a single farm or a single country. For the majority of these coffees we will have a direct relationship with the farmer who grows it. Because coffee is a crop, harvesting is seasonal and the timing is specific to each region, our selection of single origin coffees will vary throughout the year.
To make it extra special, we commissioned local artist, Alicia Binkley of Monkey Ink Design to illustrate our Single Origin labels.
Some of our coffees:
Ethiopia Guji Sidamo
VARIETY: Heirloom Ethiopian
ALTITUDE: 1900 m
PROCESSING: washed
REGION: Guji Zone, Sidamo
DESCRIPTION: Aromatic and complex with notes of jasmine, lime, orange, and honey. This coffee comes from the famed Sidamo region in southern Ethiopia. The region is famous for producing wonderfully complex and aromatic coffees, with lots of floral and citrus notes.
Nicaragua Montes Azules
VARIETY: Javanica
ALTITUDE: 1100 – 1300 m
PROCESSING: Washed
REGION: Matagalpa & Jinotega
DESCRIPTION: Honey graham cracker, apricot, milk chocolate