EVENT: Thursday, September 16th @6:00pm sign Up  / Latte Art Throwdown celebrating PRIDE and benefitting Tennessee Equality Project
Frothy Monkey in Downtown Nashville (235 5th Ave North, Nashville, TN 37219) is hosting a latte art throwdown to celebrate PRIDE.
All are welcome and the event is free to attend.
Competing baristas will pay a $10 buy in which will 100% benefit the Tennessee Equality Project.
Sign up at 6:00pm and first pour at 6:30pm.
Our bar will be open with drinks available for purchase.
Join us for drinks, food, and prizes! Masks are highly encouraged for all in attendance.
Shout out to the LGBT Chamber and Nashville Pride for all their support and everything they do. xoxo
Event Timeline
6:00 PM – Signups (max 32 competitors)
6:30 PM – Round 1 / Free Pour
7:15 PM – Round 2 / Rainbow
7:45 PM – Round 3 / Milkadamia
8:15 PM – Round 4 / 6 oz. Pour
8:30 PM – Final Round / Cortado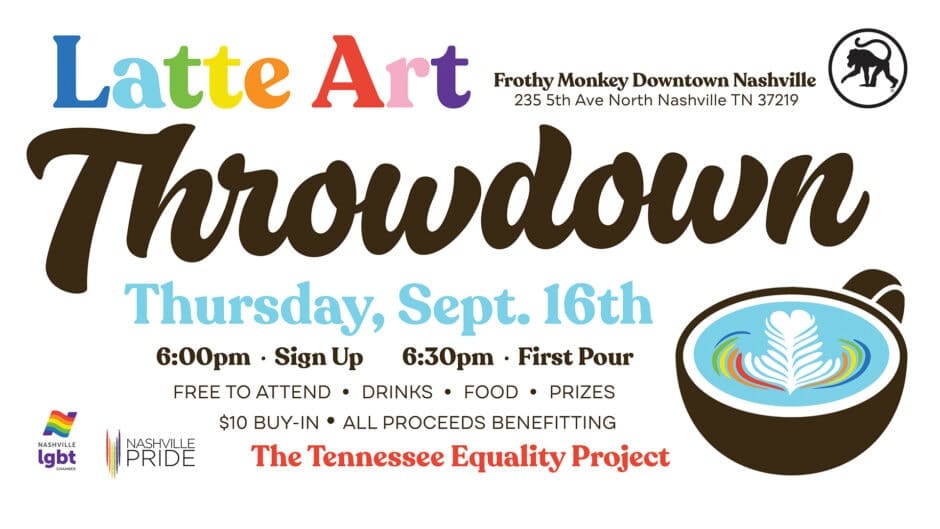 Additional thanks to our friends at Milkadamia for providing swag and their delicious plant based macadamia milk!