Our baristas, bartenders, and bakers have collaborated to develop a collection of syrups, and not only have we sourced quality ingredients, and produced + packaged locally, but we want you to be able to use them at home too! You can add them to coffee or hot chocolate, mix into cocktails, or drizzle over desserts, then sit back and enjoy a better syrup with the perfect flavor and sweetness. Intrigued, but unsure where to start? Check out these recipes below, using our current flavors: banana, hazelnut, vanilla, and pecan, then head over to our web store and get your syrups today!
---
Brown Sugar Pecan Pound Cake | Jen Mello, head baker, BAKERY by Frothy Monkey
16 tablespoons (1 cup) butter, at cool room temperature
1 cup light brown sugar, packed
1/2 cup granulated sugar
2 large eggs
1 teaspoon baking powder
1 teaspoon salt
1/4 teaspoon baking soda
2 cups King Arthur Unbleached All-Purpose Flour
1 cup sour cream
1 1/2 teaspoons vanilla extract
½ cup of Pecan Syrup
For Glaze:
1 ¼ C Confectioner's Sugar
2 tablespoons Pecan Syrup
1-2 teaspooons Milk
2 T Pecans, toasted and chopped.

Instructions:
Preheat the oven to 350°F. Lightly grease a 9- or 10-cup Bundt pan.

In a large bowl, beat the butter and sugars until light and fluffy.

Add the eggs one at a time, beating for a minute or two between additions. Scrape the sides and bottom of the bowl, and beat briefly to recombine any residue.

Add the baking powder, salt, and baking soda, then gently beat in half the flour.

Gently mix in the sour cream and vanilla, then add the remaining flour, mixing just until blended.

Scoop the batter into the prepared pan, and bake for 55 to 60 minutes, until a cake tester or toothpick inserted in the center comes out clean.

Remove the cake from the oven. Cool it in the pan for 15 minutes before turning it out of the pan onto a rack to finish cooling.

Before the cake cools completely, poke holes approximately 1" apart all through the cake, and pour the ½ cup of Pecan syrup over the surface and allow the cake to absorb the syrup.

While the cake cools, stir together the confectioner's sugar, Pecan Syrup and enough milk to make a pourable glaze.

Toast Pecans (350°F for 5 min), and chop when cool.

Once the cake is cool, pour glaze over the top allowing it to drip down the sides. Sprinkle with the chopped Pecans.
---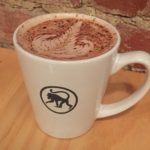 Hazelnut Hot Chocolate | Julia Matthews, lead barista Frothy Monkey, Avenue of the Arts
Warm up 12 oz of your favourite chocolate milk
Add 0.75 -1 oz of FM hazelnut syrup
Pour into your favourite mug and sprinkle chocolate powder on top (cinnamon is really good too)
*Pro tip: try this out with pecan or banana syrup as well!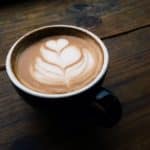 Cinnamon Vanilla Coffee
Pour 6oz of coffee into a mug
Mix in 0.75-1 oz of FM vanilla syrup and cinnamon powder
Top with 5 oz of hot or frothed milk
---
Cocktail Recipe {coming soon}