Frothy Monkey Cold Brew Coffee is now available in 12oz cans and on draft!
Find Frothy Cold Brew at a local retailer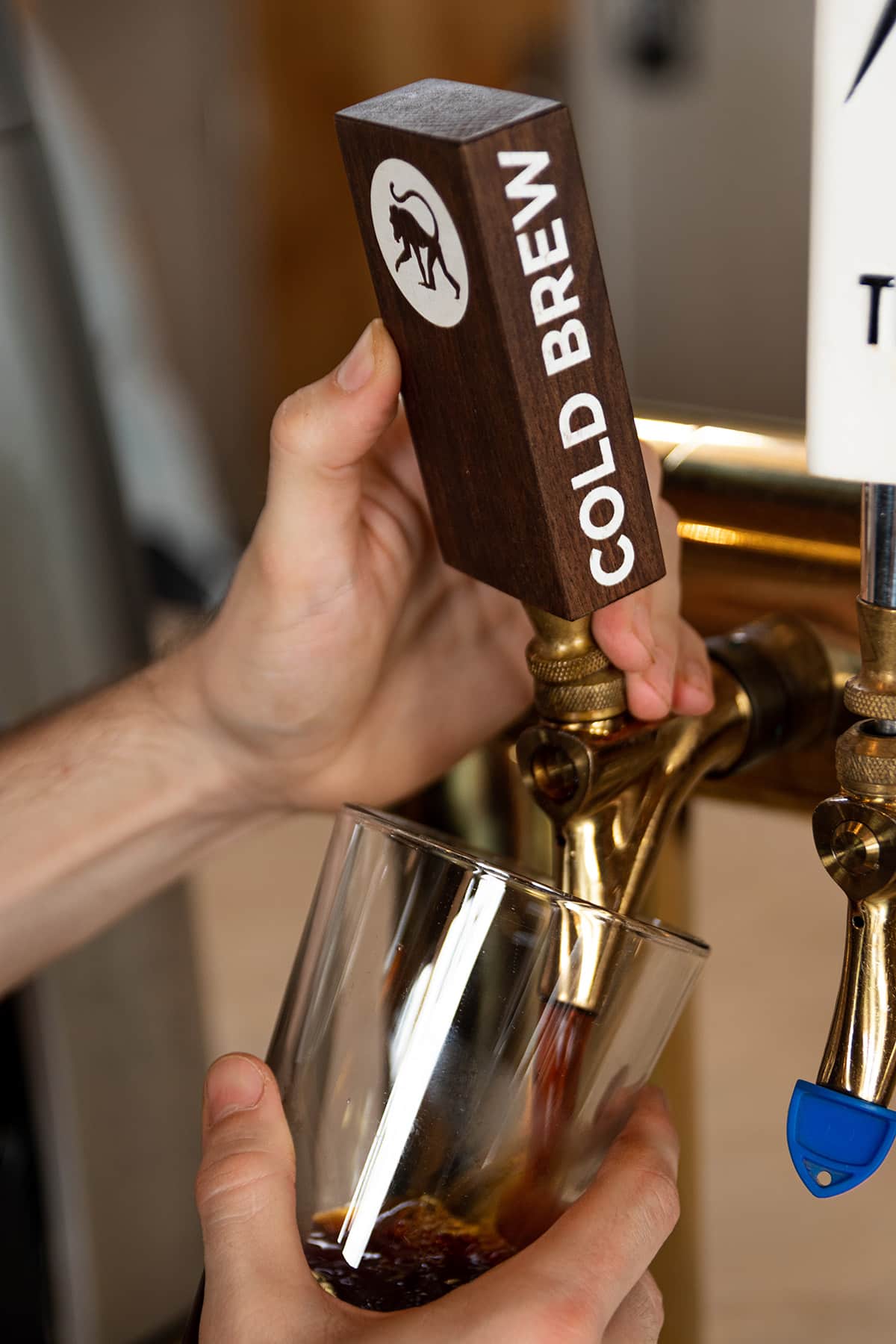 A great grab-and-go option for a quick already brewed caffeine fix.
It is natural, sugar-free, low calorie, and plant-based, and is vegan, vegetarian, keto, and paleo-friendly. A fantastic and refreshing non-alcoholic, preservative-free, energy drink alternative.
A can of Frothy Monkey cold brew coffee is a smooth black coffee that is ready to drink. We designed this cold brew to be refreshing and bright with a sweet, creamy body. It is a smooth, crisp blend of washed Guatemalan and Ethiopian coffees with notes of Bartlett pear, milk chocolate, and hazelnut.
We start by sourcing coffees with the right intrinsic flavors to fit our flavor profile. The two coffees in the blend are roasted separately to allow for more control in developing the best individual profiles. Then, they are post-roast blended in preparation to brew.
Our roasting team is collaborating with local brewery, Jackalope, to brew, can and keg our cold brew in high volume using the same care and attention as we take for small-batch brews. The relationship with Jackalope's brewers has been invaluable in crafting the distinct recipe we wanted. Scaling up a cold brew batch into their large mash/lauter tun tank was a process of figuring out the best brew times, water temperature, agitation, and coffee to water ratio. What we create is a concentrate, much like you would at home, and transfer that into brite tanks where we dilute with filtered water to our desired specifications and taste preferences before it is kegged and canned.
There are many brewing methods for hot coffee, and cold coffee is no different. The two main brewing methods to achieve a cold coffee drink are to flash chill coffee that has been brewed hot, and cold brewing coffee which is when coffee is steeped for hours with lower temperature water to create a coffee concentrate that is then diluted with water. Each method offers a distinct difference in the flavor compounds extracted from the coffee. Most cold brew in the market is roasty and sweet without any nuance of flavors and we choose to cold brew our coffee in order to achieve a better depth of flavor. We have chosen to leave our cans unpasteurized, to avoid adding heat to the final product, which means that they maintain the highest quality product but they must remain refrigerated.
Frothy Monkey Cold Brew is the only coffee that is roasted, brewed, and canned locally in Nashville. Cans are available at all Frothy Monkey locations as well as area convenience stores, liquor stores, and grocery outlets including E+Rose Wellness Cafe, 4 Stop Market, Red Dog Wine & Spirits, and Middle Tennessee Kroger stores with more being added every day!
Our cold brew is also available on draft as well as in a whole bean form for you to brew at home.
Our Cold Brew is distributed by Ajax Turner. If you are a retailer interested in carrying our cold brew in cans or on draft please contact george@frothymonkey.com for more information.