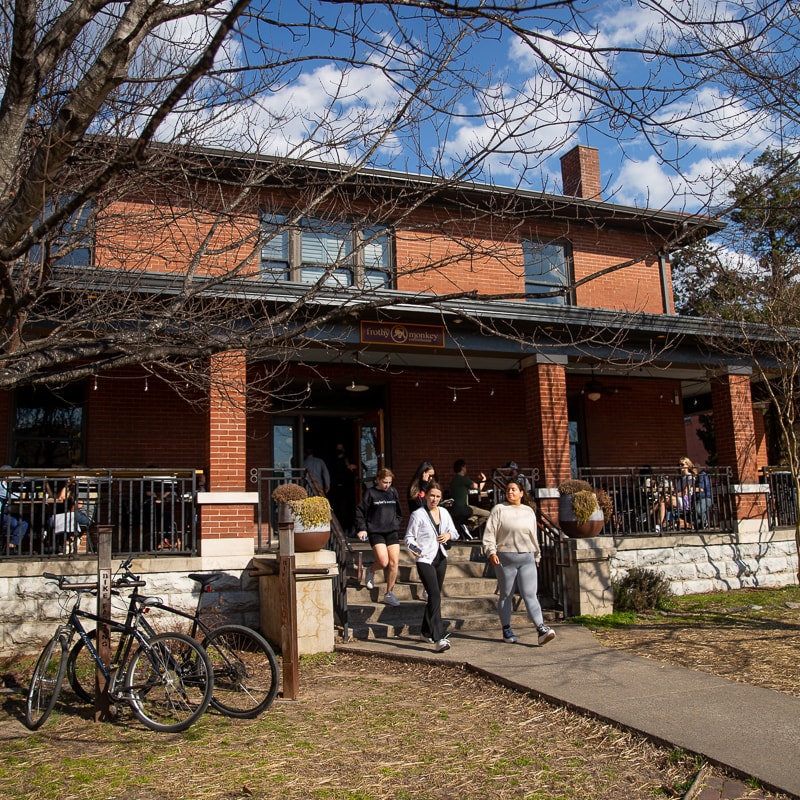 ---
Welcome to Frothy Monkey!
At Frothy Monkey, we believe we are better together.
We're Franklin's local all-day cafe serving breakfast through dinner with a focus on community and genuine hospitality. Whether you're our neighbor, or a visitor, we invite you to join us for a cup of coffee, brunch with friends, or to top off the day with dinner or a drink special. Through sustainably sourced coffee and ingredients, we aim to provide a safe and welcoming environment that can nourish our guests and our community relationships.
Downtown Franklin was the first Frothy Monkey outside of Nashville. With a wide wrap around porch and historic charm, we welcome a myriad of guests! Just steps from the main square of downtown Franklin, this location is a great stop for shoppers browsing local boutiques or concert goers headed to The Franklin Theater or Harlinsdale Farm (home of the Pilgrimage Festival).
Dining Options
Dining In
At Frothy Monkey in Downtown Franklin, guests are welcome to dine-in with full-service wait staff at indoor tables and on the porch. Please see the host stand to be seated.
COVID Protocols
Our dining rooms are open! Seating capacity may be limited in some cafes, but all locations are open. Safety protocols and updates are available on our COVID-19 Updates page.
To-Go Ordering
Guests are welcome to order at the counter for to-go coffee or food. Come in for a latte or signature drink before strolling the neighborhood or heading to work! Food items, drinks, and fresh baked goods from BAKERY by Frothy Monkey are available to go.
Online Ordering + Curbside Pickup
The Downtown Franklin location offers online ordering with curbside pickup through Toast! Visit the link below to choose the location you'd like to pick up, and we will see you soon!
---
Parking + Accessibility
Frothy Monkey Guest Parking
Paid and free parking options are available at this location. Bike racks are available on the lawn.
Pick-Up / To-Go
15-min parking available for
Pick-Up orders, or quick to-go ordering.
Accessibility
Handicapped spaces are available behind our location or in both the 2nd and 4th Avenue Parking Garages.
An accessible ramp is located on the southeast side of the building. The first floor of this location has accessible seating.
Downtown Franklin is easily accessible for wheelchair users with smooth curb cuts and sidewalks.
Animal Policy:
Well behaved and leashed pets are welcome in our outdoor seating areas.
Public Transit: Frothy Monkey in Downtown Franklin is located only .1 miles away from the Downtown Franklin Transit Center. Any of Franklin Transit routes lead to this center close to the cafe.
Free Street Parking
Check time limits for longer visits or use a 24 hour garage.
Downtown Franklin Garage Parking
4th Avenue Parking Garage
Free Parking – 24 hr. Limit
300 spaces
2 Electric Vehicle Charging Stations
Handicapped Spaces and Bike Racks Available.
2nd Avenue Parking Garage
Free Parking 24 hr. Limit
300 spaces
2 Electric Vehicle Charging Stations
Handicapped Spaces and Bike Racks Available.
Bike Racks:
Bike racks for guests are available outside.
Paid lots available behind our location. Click for more information on Downtown Franklin Parking.
---
The Story of Frothy's Franklin Location
At Frothy Monkey, our goal is to always operate inside of buildings that have a history and warmth and are a part of the existing neighborhood. It's not uncommon that we get the question, "What was this building originally?"
The Downtown Franklin Frothy Monkey is located inside of the former manse of the Historic Franklin Presbyterian Church. Because of the original intent of the building, you may see some unique features throughout the building like the original fireplace and repurposed doors. You'll also see that most rooms are spacious and inviting, an ode to the community that was built in this neighborhood years before.
---
Follow along on Instagram for daily updates, product launches, and neighborhood events!