The weather is playing games with us right now – hello fickle spring! We can't wait for things to stabilize a bit to enjoy outdoor dining. When the good weather finally sticks around, you'll find plenty of perfect patio seats at Frothy Monkey cafes.
We surveyed our employees on their top picks for different outdoor dining experiences, brought you the top recommendation and notable mention for each.
Best Outdoor Seating for Wine Down Wednesday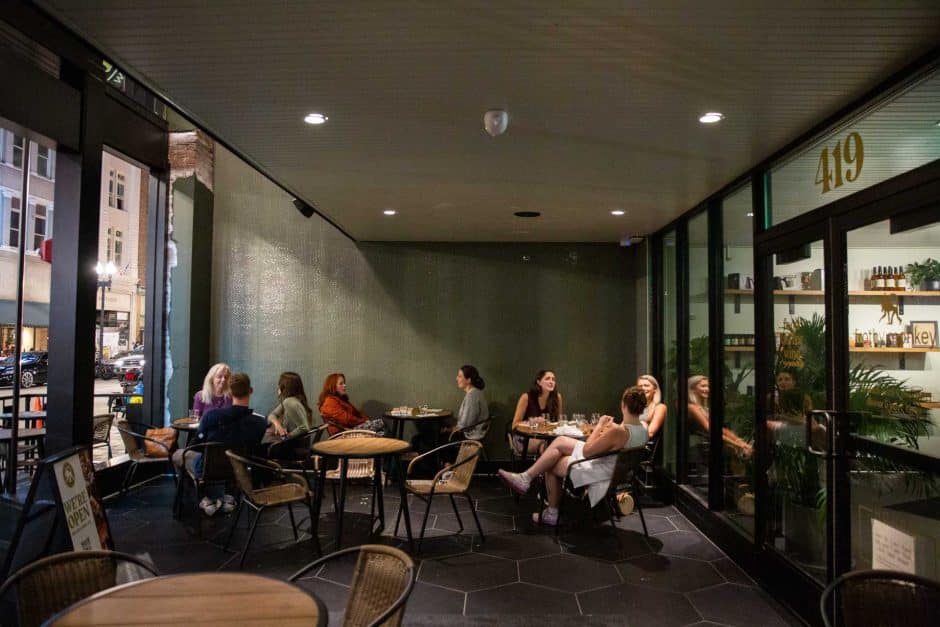 Downtown Knoxville – Coming in hot! Our newest patio in Downtown Knoxville got the most mentions for a great Wine Down Wednesday! With covered and open air seating Downtown Knoxville's patio is perfect for an evening on Gay Street no matter the weather.
Notable Mention: Downtown Birmingham has a gem of a back patio for winding down. This space is shady, with fans and heaters, and a myriad of seating options. It's a great spot to share a flight of wines and a cheeseboard. 
Best Outdoor Happy Hour Location
Southside Chattanooga – There's something special about Happy Hour at Frothy Monkey in Southside Chattanooga. It could be the string lights, the shady trees and umbrellas, or a little bit of magic from the Chattanooga Choo Choo property. After work, avoid the traffic and join Frothy Monkey for Happy Hour Monday – Friday 3pm – 6pm.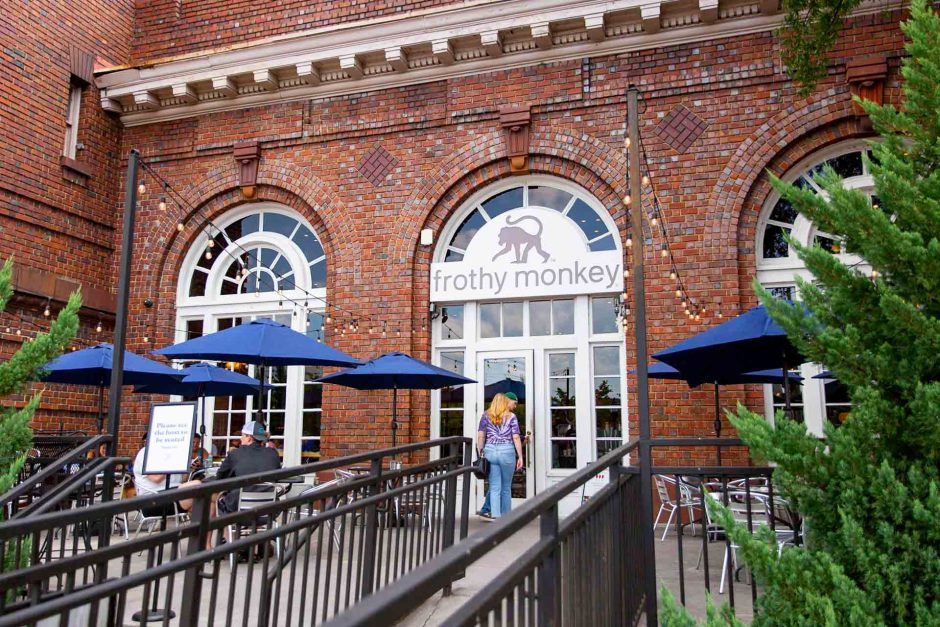 Notable Mention: The Nations Frothy Monkey is perfect for Happy Hour with absolutely gorgeous sunsets! In West Nashville you get the most wicked colorful views of the sun setting. So, grab a cocktail, beer or wine and watch the sun set over West Nashville on our patio. Your camera roll and your wallet will thank you. 
Best Outdoor Tables for Brunch and Shopping
12South Beer Garden – Frothy Monkey 12South is also our top pick for an outdoor brunch and shopping trip! Picnic tables in the beer garden or cafe tables on the porch are great for groups and an easy transition to strolling the neighborhood. 
Local Nashville shops like Moda, Imogene + Willie, Draper James, and more are located in 12South! So, stop by for some fresh coffee, brunch cocktails, and fresh eats before setting out to shop local.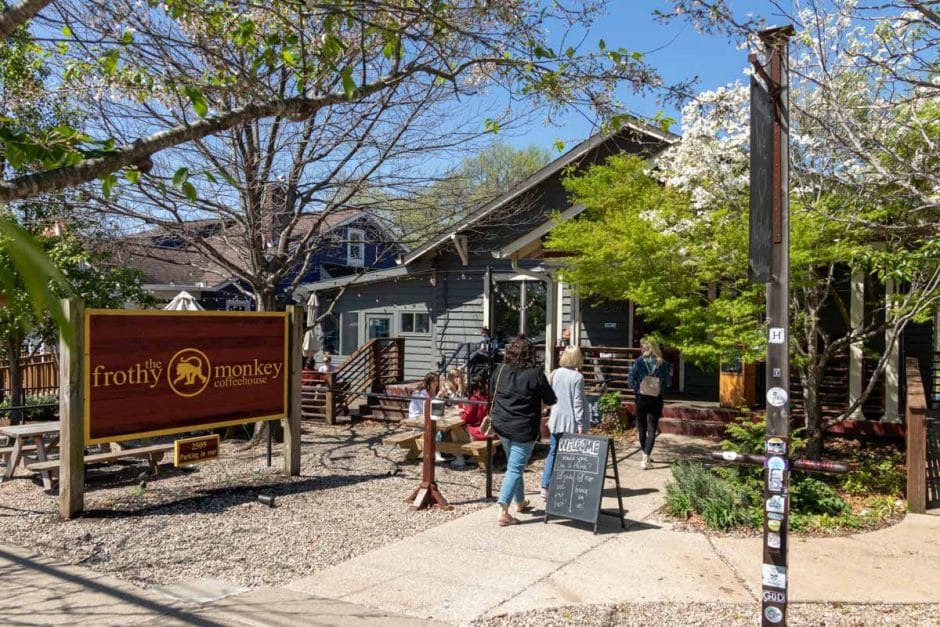 Notable mention: Downtown Franklin – Brunch on the porch and shopping on Main Street – you might shop yourself hungry and need to come back for an afternoon tea! There's so much to see.
Best Outdoor Seating for Families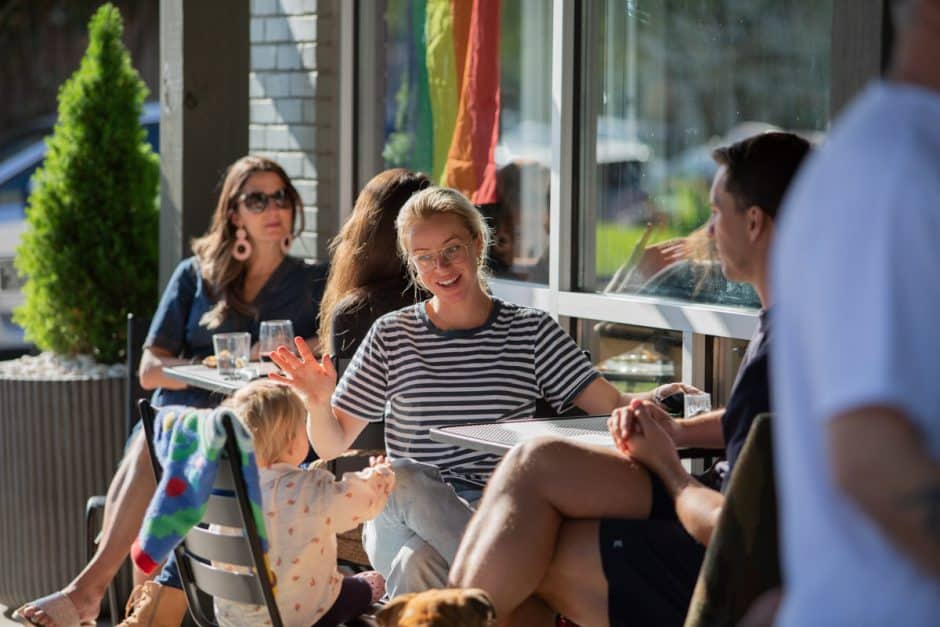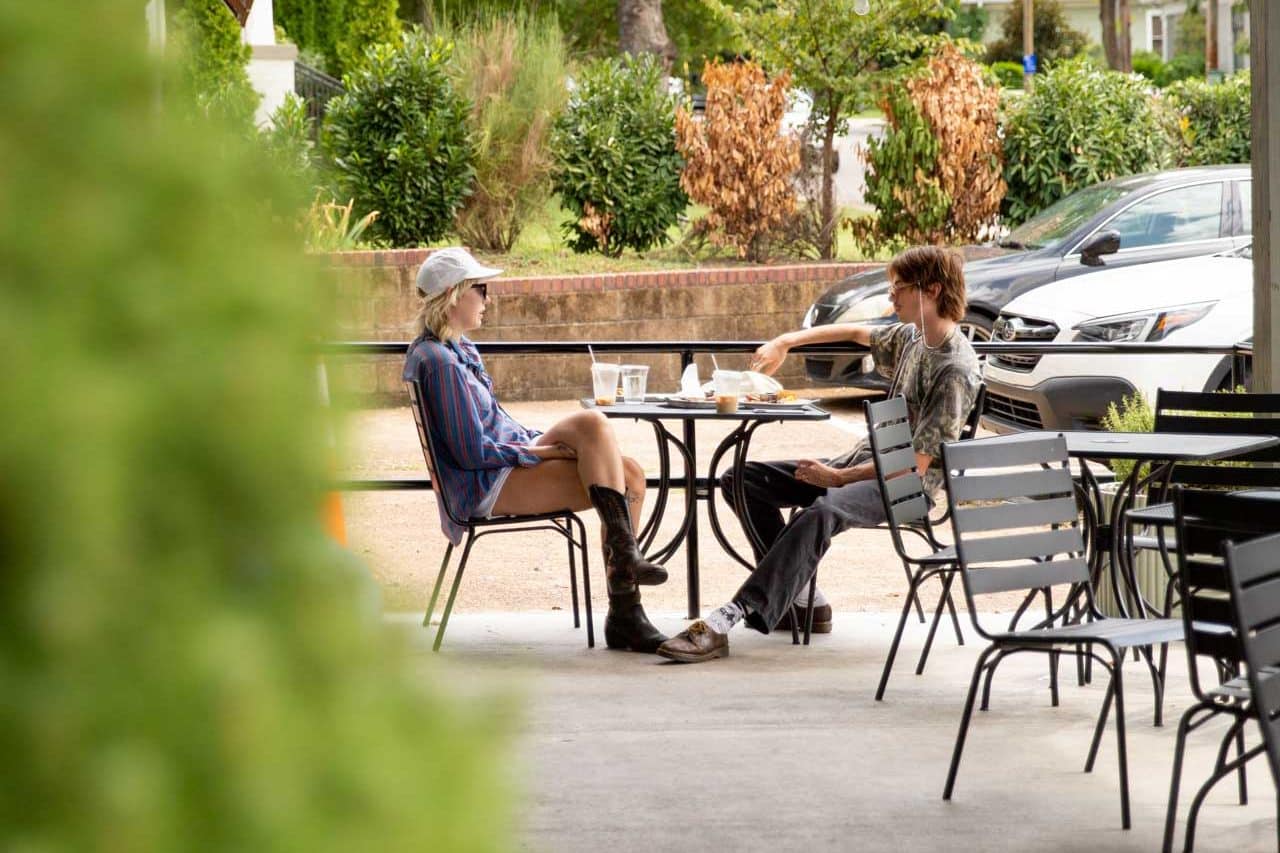 East Nashville – Frothy Monkey East Nashville's Patio is PRIME for a meal outdoors! On a cute corner in the Lockeland Springs neighborhood, our East Nashville patio is "se magnifique!" for family outings. With walkable neighborhoods, and just a short jaunt from Shelby Park, you can get the kiddos wiggles out before or after a meal. The outdoor fans keep a cool breeze moving throughout the summer. We love to see parents enjoy a drink while kids chow down on cheesy eggs or sandwich!
Best Outdoor Seat for Reading
Downtown Birmingham Back Patio – When you need some fresh air and a quiet getaway, check out our back patio at Frothy Monkey Downtown Birmingham. Past the main dining area, there's a special surprise out the back door! An urban oasis complete with fans and heaters is waiting for you. Choose between banquette and bar seating or adirondack chairs to find the perfect sunny or shady spot for hanging out with your favorite reads. Be sure to order your favorite coffee, cocktail or wine to help set the mood. 
Notable mention: Downtown Franklin's front porch! Breezy and historic, this front porch is great for getting in the zone to read, if you don't mind a little chit chat from other guests.
Best Outdoor Seat for People Watching
12South Beer Garden – At our all-day cafe, we see it all from 7am – 9pm! We love a good screen-free moment to soak in the atmosphere. The 12South neighborhood is full of lovely creative neighbors, and lots of visitors who come to Nashville! One minute you may see a mother with a stroller and the next you might see a whole bachelorette party struttin' their stuff. It's a beautifully mixed crowd. 
Notable Mention: Downtown Knoxville on a Friday or Saturday? Sign us up! It could be quiet, it could be a little wild, but we're just here for the show.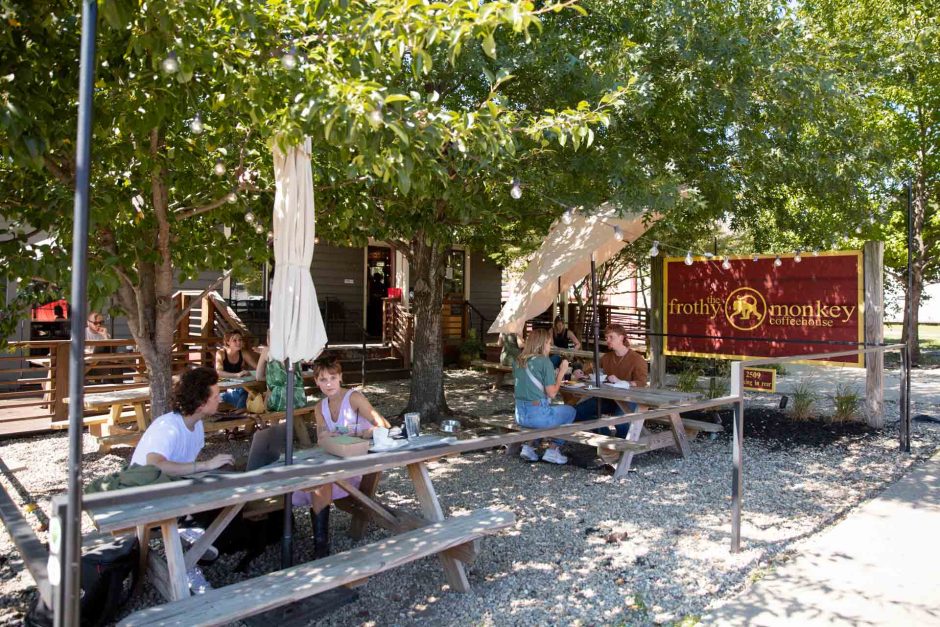 Best Outdoor Pre or Post Hike Meal
Southside Chattanooga – Talk about adventurous! Chattanooga has SO much to explore when you're looking for outdoor activities. Explore the Chattanooga area with hiking, spelunking, white water rafting, kayaking, canoeing – the list goes on! VisitChattanooga.com is a great local resource to find your next adventure!

Before heading out, stop by Frothy Monkey in Southside Chattanooga for a hearty breakfast and a great cup of coffee to get your adventure off on the right foot. The morning light is just perfect out on the patio with string lighting, umbrellas, and gorgeous mature trees. We're open at 7am for your fuel up, and stay open until 9pm for a post adventure wind down.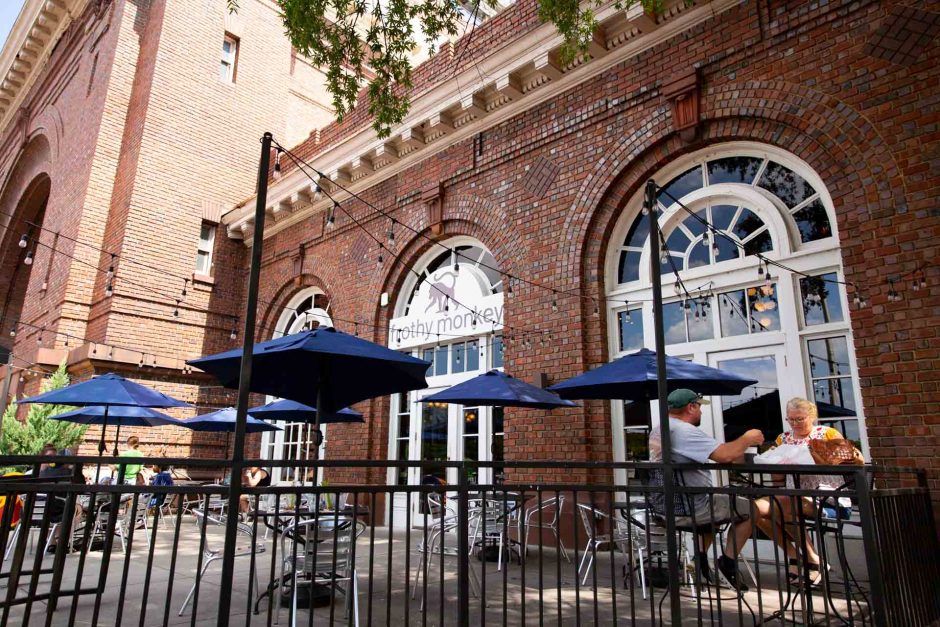 Notable Mention: Frothy Monkey Downtown Knoxville – When we were exploring East Tennessee it was incredible how close we were to so many of Tennessee's natural wonders. In only an hour or so drive, you can find Nantahala National Forest, The Great Smoky Mountains, Cherokee National Forest. In town, you can find lots of great walking, hiking, and biking trails, too! 
Best Outdoor Seating for Your Morning Coffee
East Nashville Covered Patio – While the world is waking up, enjoy your morning cup under the covered patio at Frothy Monkey East Nashville. Pop in starting at 7am to take in the morning mood in Lockeland Springs. Because this isn't on a main street, you can enjoy the little things like the sounds of birds chirping, a calm breeze, great historic homes and buildings, and lots of friendly neighbors coming in to start the day.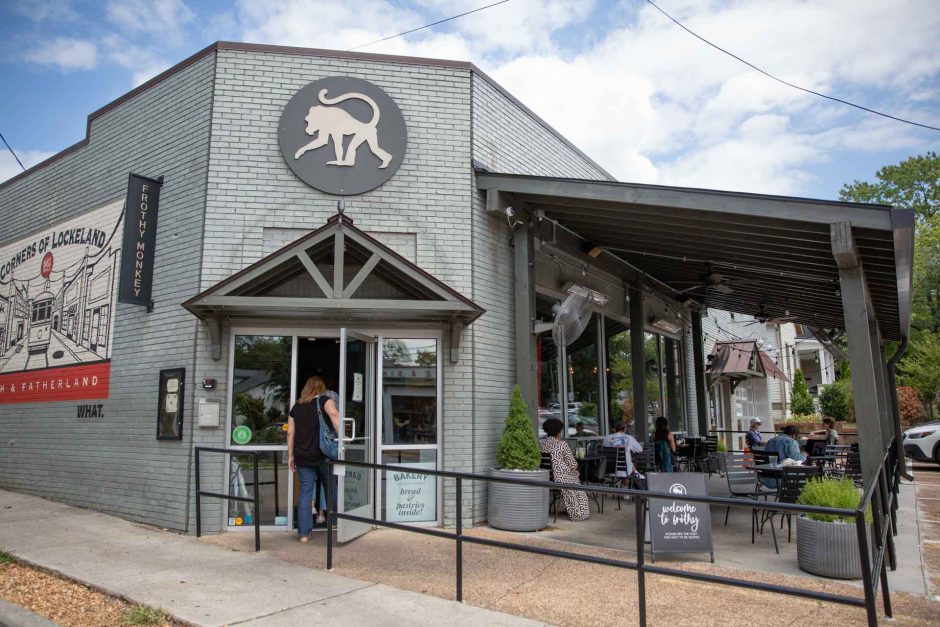 Best Restaurant for Outdoor Office Lunch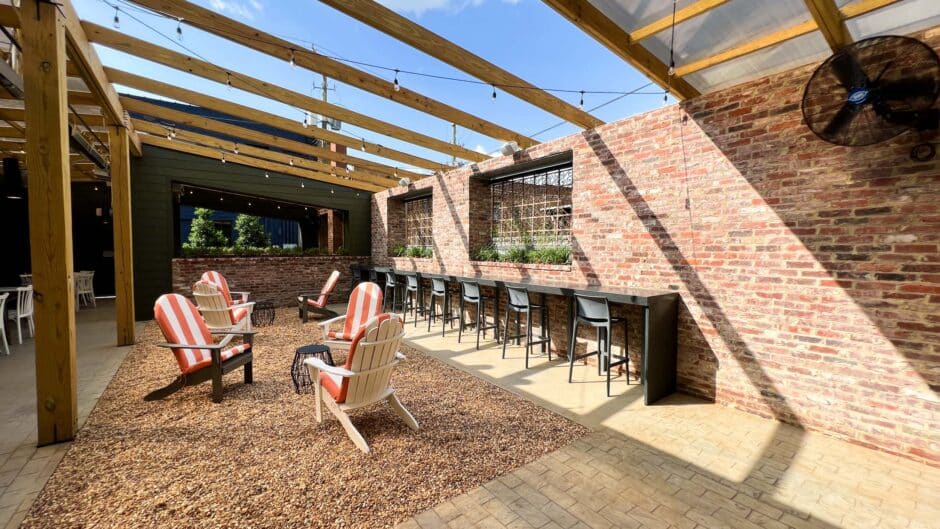 Downtown Birmingham – Frothy Monkey in Downtown Birmingham has a hidden gem of a patio out back, and it's perfect for large groups! Grab your office team, or work buddies and get a fresh lunch in the fresh air! Fans on the outdoor patio keep things cool and multiple seating areas allow the patio to accommodate groups of all sizes. Feel free to bring along your laptop if you decide to stick around – we love a little "al fresco" remote work! 
Notable Mention: Frothy Monkey Downtown Knoxville has an easy breezy front patio to give office workers a breath of fresh air! With free or nearly free parking in downtown, you'll find it easy to make the most of your lunch break. 
Best Tables for an Al Fresco Dinner Date
Downtown Franklin – Find your spot on Downtown Franklin's spacious porch for a dinner date. Make dinner a breeze for the family, your friends, or a new special someone in your life. Frothy Monkey Downtown Franklin's dreamy outdoor dining has soft string lights, calm but lively downtown energy, and charm of the southern wrap around porch. When you're all finished, it's the great historic neighborhood for an evening stroll.
Notable Mention: Another historically charming location for a dan outdoor dinner date is Frothy Monkey Southside Chattanooga. It has umbrellas for shade in the late afternoon, and a vibey string lit patio in the evening. From 5 pm to close, our dinner menu is available for a great evening of al fresco dining.