We taste sugarcane juice and candy, with an abundance of blackberry jam flavors, followed by a blood orange acidity and deep red plum notes.
This coffee is a Perla Negra Natural, meaning the coffee seeds dried in the fruit, skin intact, for 10 days under constant rotation before being transferred to bags for 2-3 days and finishing on raised beds. Thanks to this method, it boasts a big flavor, intense fruitiness, and rich sweetness., and it makes for a big, rich, exotic cup.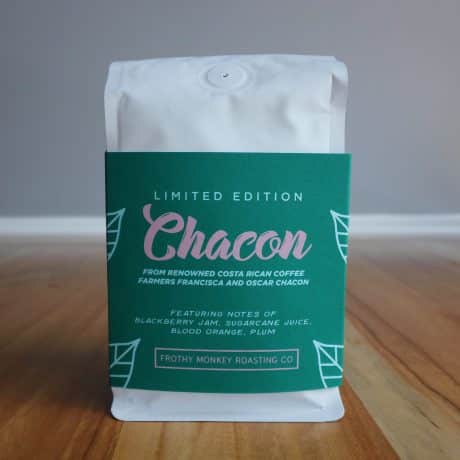 Our newest revelation takes us to some of the leading innovators of Costa Rica, Oscar and Francisca Chacon. In 2008, when an earthquake cut off water access for their Las Lajas micromill, the Chacons improvised. Knowing that other countries like Brazil and Ethiopia had success with natural or pulped-natural methods that required less water, the Chacons decided to try it with that year's harvest. The results were surprising — when tasted alongside their traditional washed offerings, the naturally processed coffees stood out for their fruity, exotic cup character.
The Chacons have since led the way in Costa Rica's micromill revolution. Experimenting with a wide range of drying times and methods has given these coffees their names (like "red honey" or "Alma Negra Natural"). Producers like the Chacons exemplify the forward-thinking creativity that makes coffee and ever-intriguing beverage. Even more so, they represent hope for coffee producers everywhere who face increasing challenges in the decades ahead. Rather than fold in the face of adversity, the Chacons reinvented their 180-year-old farm, preserved its legacy, and brought new and exquisite coffees into the world.
Chacon Costa Rica Natural will be available for a limited time at all Frothy Monkey locations and from our online store!