Your favorite patio is just around the corner
There's no denying the draw of beautiful weather – sunshine on your face and a little breeze in your hair. At Frothy Monkey, we've built great spaces for outdoor cocktails, coffee, or meals with the family. 
12South Nashville's Beer Garden
Frothy Monkey 12South is our original Nashville location. Over the years, we have expanded our outdoor dining options to include the beer garden and porch seating. With shady trees and umbrellas, signature drinks and brunch cocktails, you'll find the perfect respite from the Tennessee heat! Before exploring the local Nashville businesses, stop in for a morning coffee, or refuel midday with delicious lunch options. A picnic in Sevier Park is a great way to enjoy the weather, too. Order for Pick Up and take a stroll to your favorite spot.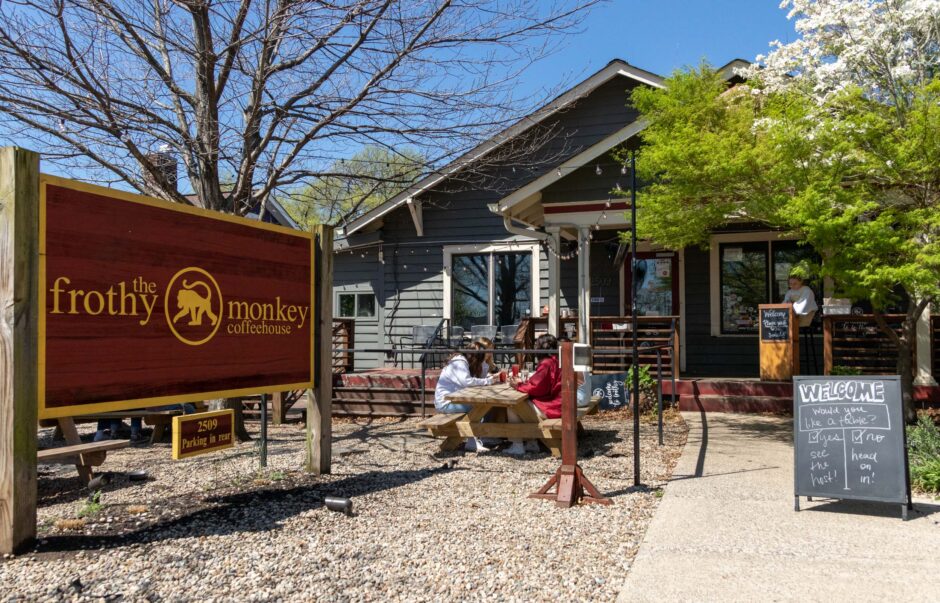 Downtown Nashville Urban Sidewalk Dining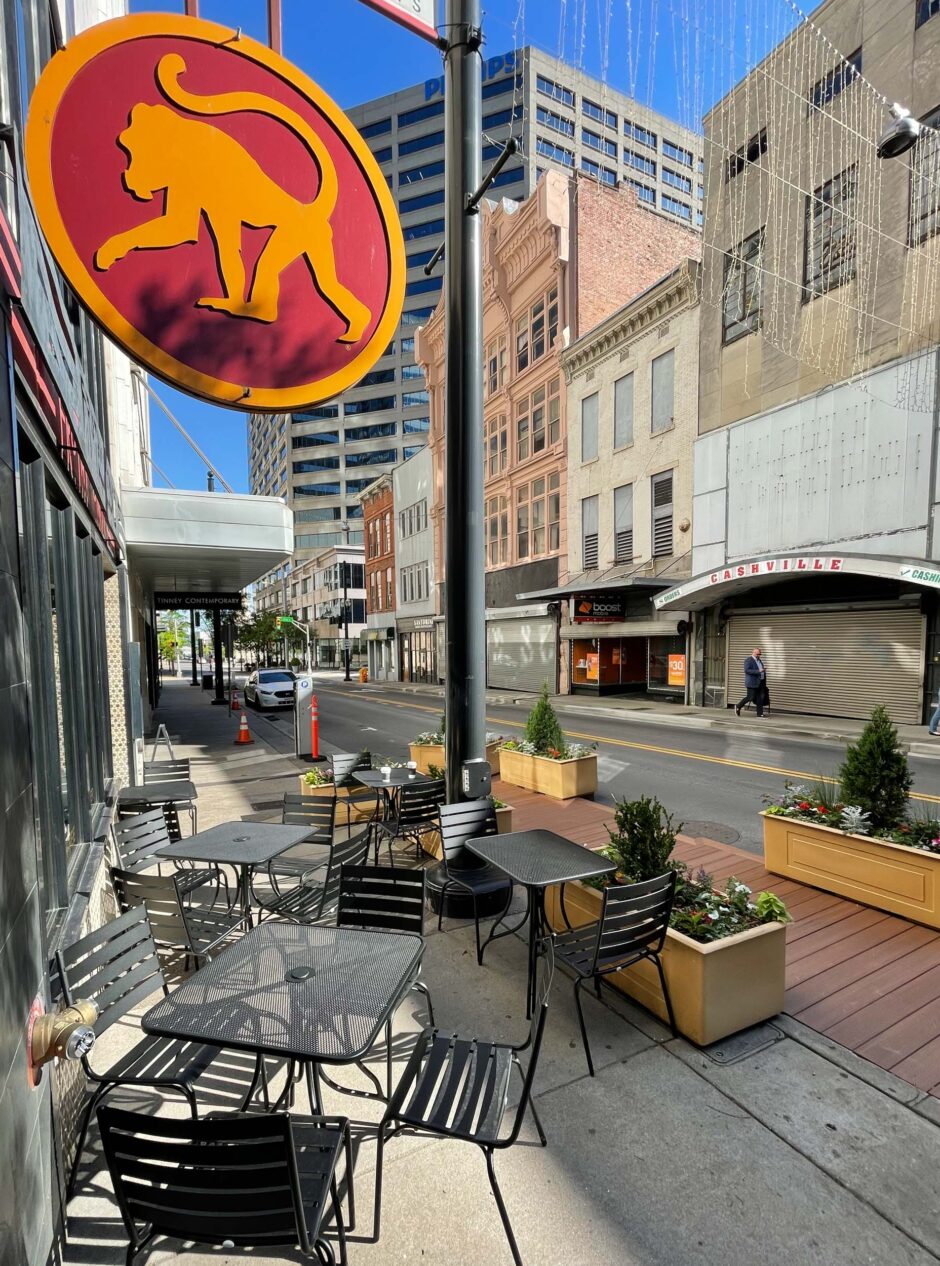 The energy of Downtown Nashville is contagious! When you're ready for a break from honkey tonks or downtown exploration, head up 5th Avenue to our Downtown Nashville location to sit back for a good cup of coffee or healthy meal option. Our outdoor space is a great place to refill your cup – literally! With quaint outdoor streetside seating, you can enjoy the vibrant energy of downtown and warm hospitality of our cafe.
The feel of this area is great for guests who love cityscapes and an urban atmosphere. In this historic part of downtown, you'll see unique architecture and a wide variety of people as you sit and sip on one of our signature lattes, or fuel up with fresh eats. Close to the Ryman, Tennessee Performing Arts Center, and Bridgestone Arena, you'll find it's the perfect place to stop in on your downtown adventures.
The Nations Seat with a View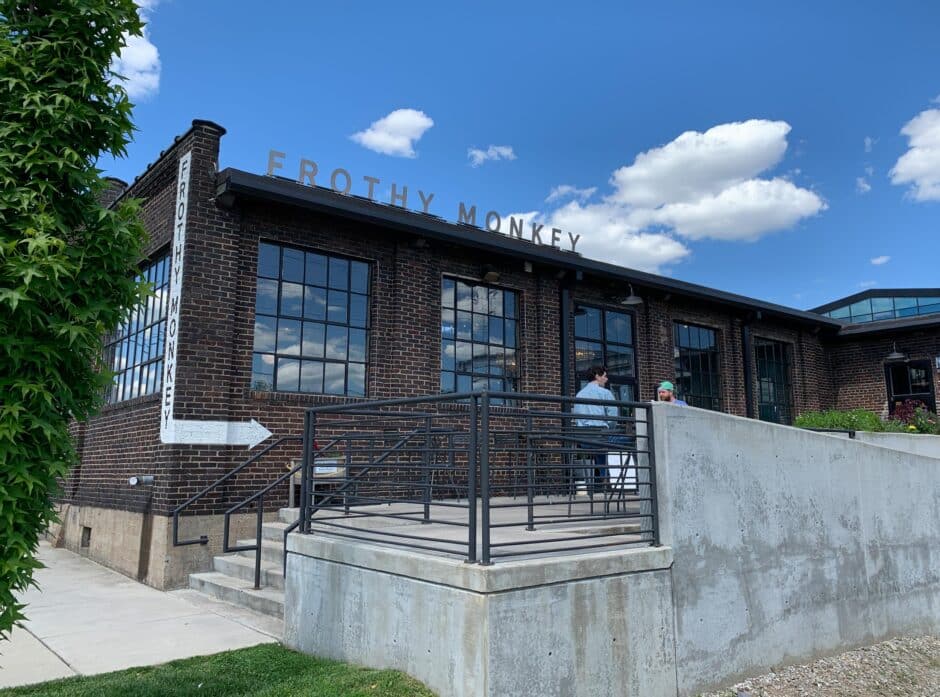 The Nations Frothy Monkey is a great neighborhood hotspot. Between family meals, remote work, and coffee catch-ups this expansive space is prepared for any occasion! If the vaulted ceilings aren't roomy enough, step outside to our outdoor patio space. This area is perfect for viewing the incredible sunsets to the West. While gazing that way, take a look at local public art like the Lee Estes silo mural and Partick Swayze's portrait at The Centennial! If you're lucky, you might even find the @forbecks Lego Man hiding outside. 
Want to enjoy the weather elsewhere? Order for pick-up and take a short walk to West Park or England Park to enjoy the beauty of Metro Nashville Parks. Make it a day out with a picnic lunch or charcuterie from Frothy.
East Nashville Heated and Cooled Patio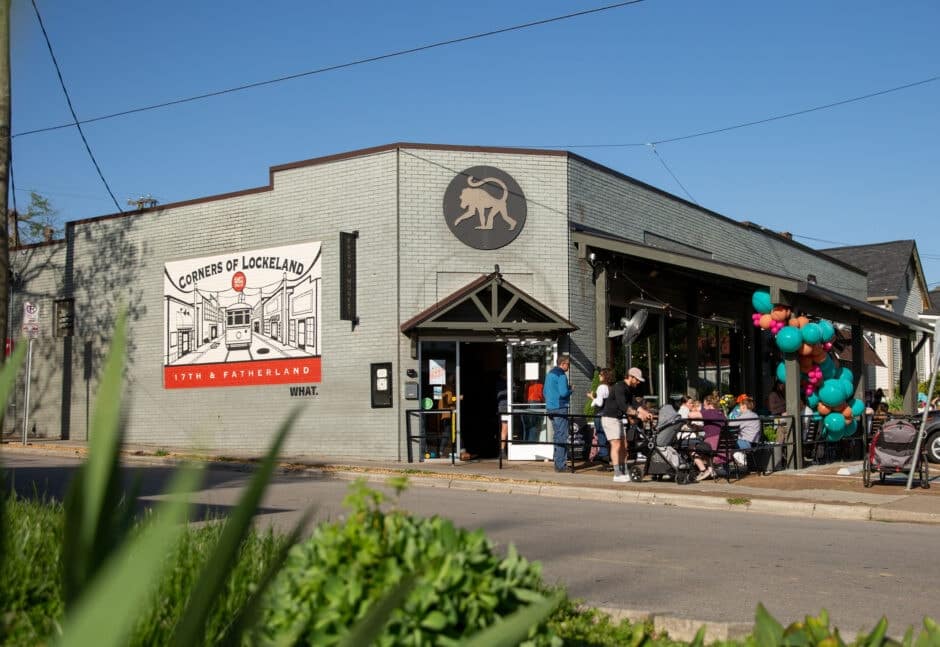 The Patio at Frothy Monkey East is quickly becoming a favorite spot for families and friends to gather in the Lockeland Springs neighborhood. Our new patio debuted in April 2022. Complete with fans for the summer, and heaters for the chilly days in between, you can find your favorite sunny spot, or shady refuge under the awning.
Frothy East is a short walk from Shelby park. It's a great stop on your route to summertime fun with your friends, family, or fur babies. Get your start with coffee and a treat from BAKERY by frothy monkey or refuel after a long day out.
Downtown Franklin's Favorite Front Porch
The best spot to enjoy the perfect "porch weather" is a seat at Frothy Monkey in Downtown Franklin. We're happy to share! The wide, well covered wrap-around porch is your refuge from pop-up showers, with the luxury of enjoying the summer breeze. There are bar seats to look out over the front lawn and traditional tables, too.
As a part of your Downtown Franklin adventure, enjoy a meal or your favorite coffee with us. As the Best Coffeehouse in Downtown Franklin, we're proud to serve you and your family fresh local food and coffee options for any meal. 
Southside Chattanooga's Sunny Patio
Frothy Monkey in Southside Chattanooga's bright and spacious porch is great for enjoying the summer sun. While exploring the Southside, stop in for Tennessee specialty roasted coffee and food with local flair. Your family and fur-babies are welcome on the patio! So, pull up a chair and join us for your bit of respite in the downtown hustle. Fueled by good eats, you'll be ready to take on your next adventure in Chattanooga!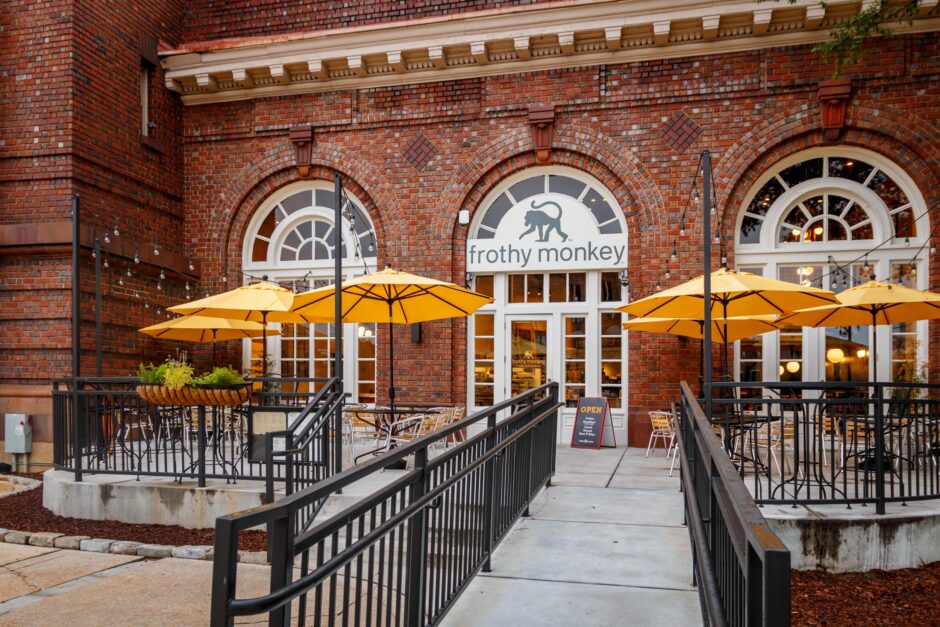 Downtown Birmingham's "Hidden Gem"
One of our favorite features of our Downtown Birmingham location has to be the outdoor patio. You won't see this spot from the street, but through the back door you'll find our hidden gem. An insta-worthy brunch is inevitable with the exposed brick wall, greenery, cheery Adirondack chairs, and modern wood bench design. You'll absolutely love spending coffee dates or meals with a great breeze and sunny skies. Even on the grey days, this outdoor oasis is covered and provides some cozy corners for relaxing into remote work or catching up with friends.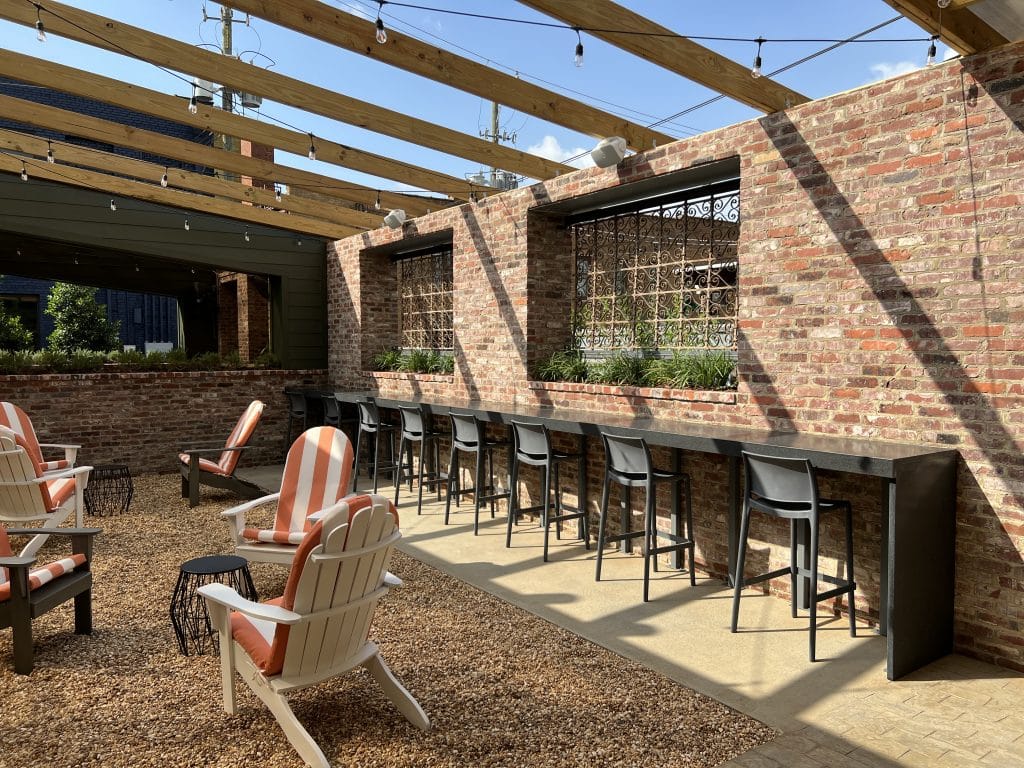 The Perfect Gay Street Patio Experience in Knoxville
Next up is the immaculate indoor-outdoor space at our Downtown Knoxville cafe. Whether you want to soak up some Vitamin D or find a shady spot under the mezzanine this patio has it all. During the build out of our newest space, we recessed the doorway and created an interior mezzanine. This addition created an outdoor patio with protection from the elements. However you choose to spend your time at Frothy, we hope you can soak up a little downtown magic by enjoying the sights and sounds outside.