August 19th, 2022, 10:30 pm – 2:00 am
Doors Open 10:30 pm, Show Begins at 11:30pm
$10 at the Door – This is an 18+ show.
Join us at Southside Chattanooga Frothy Monkey for a night of incredible energy and talent for the 2022 'Future Ball' featuring local drag performers. Your host Anastasia Amour and Stacie Rect, will take you on a trip that's "Too classy for this world".
Enjoy drink specials and late night bites are available throughout the night – perfect for sharing, or savoring on your own! Seating is first come first served, and doors open at 10:30 pm.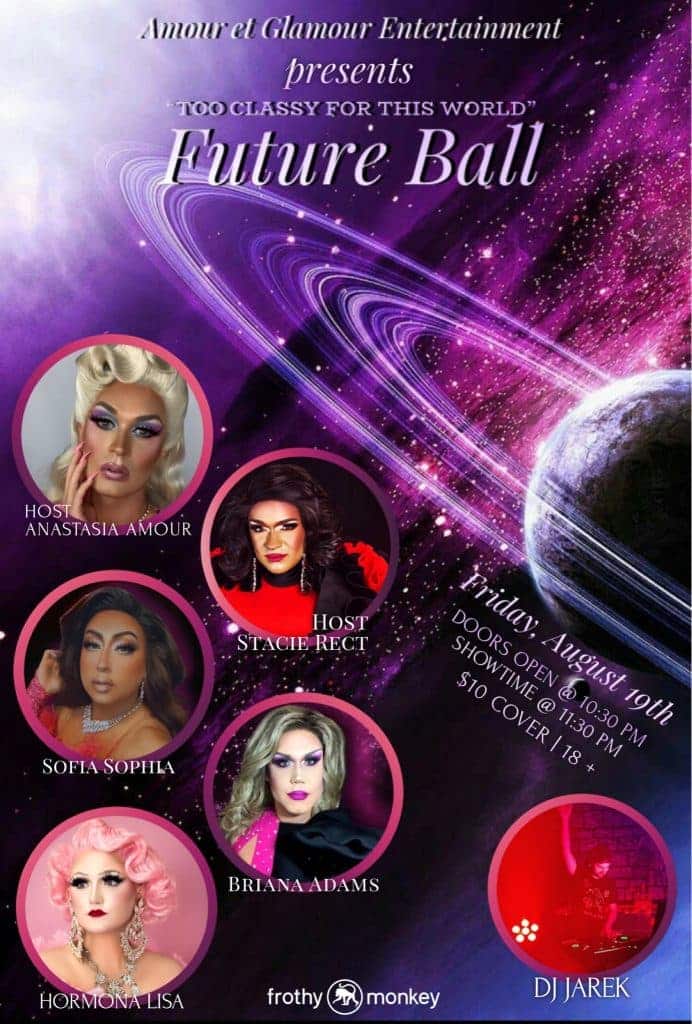 Drink Specials
The Pink Lady
Campari, Lime, Cathead Vodka, + Sprite
Ruby Red Lemonade
Cathead vodka, St. Germain, pomegranate juice, lemon,
house simple syrup
Lemon Drop Shot
Cathead vodka, lime,
Honey simple syrup
Late Night Bites
Carter's Bacon Wrapped Jalapeños
Bacon wrapped jalapeños with blackberry cream cheese
Logan's Red Pepper Potatoes
Fried potato fondants, roasted red pepper cream, andouille coins, and caramelized onion.
The Cowboy
Fried potato fondants, cowboy caviar, garlic mozzerella, avocado slice
Chips + Dip
Rotel Dip and chips / $7
Cowboy Caviar and chips / $7