Looking for a guide to help you host a latte art competition? We have it! Our operations and roasting company team have compiled their best advice and tips to hosting a successful and fun latte art throwdown at your shop.
What is a Latte Art Throwdown?
Simply, a Latte Art Throwdown is a competition to see who can create the most technically accurate and visually impressive latte art within the provided parameters. Competitive latte art circuits have official rules and regulations and are extremely popular in Europe, Asia, and North America. The official World Latte Art Championship is held by the Specialty Coffee Association.
Latte art competitions are about more than awards and accolades. These events build community and goodwill within an industry which often intimidates fledgling baristas.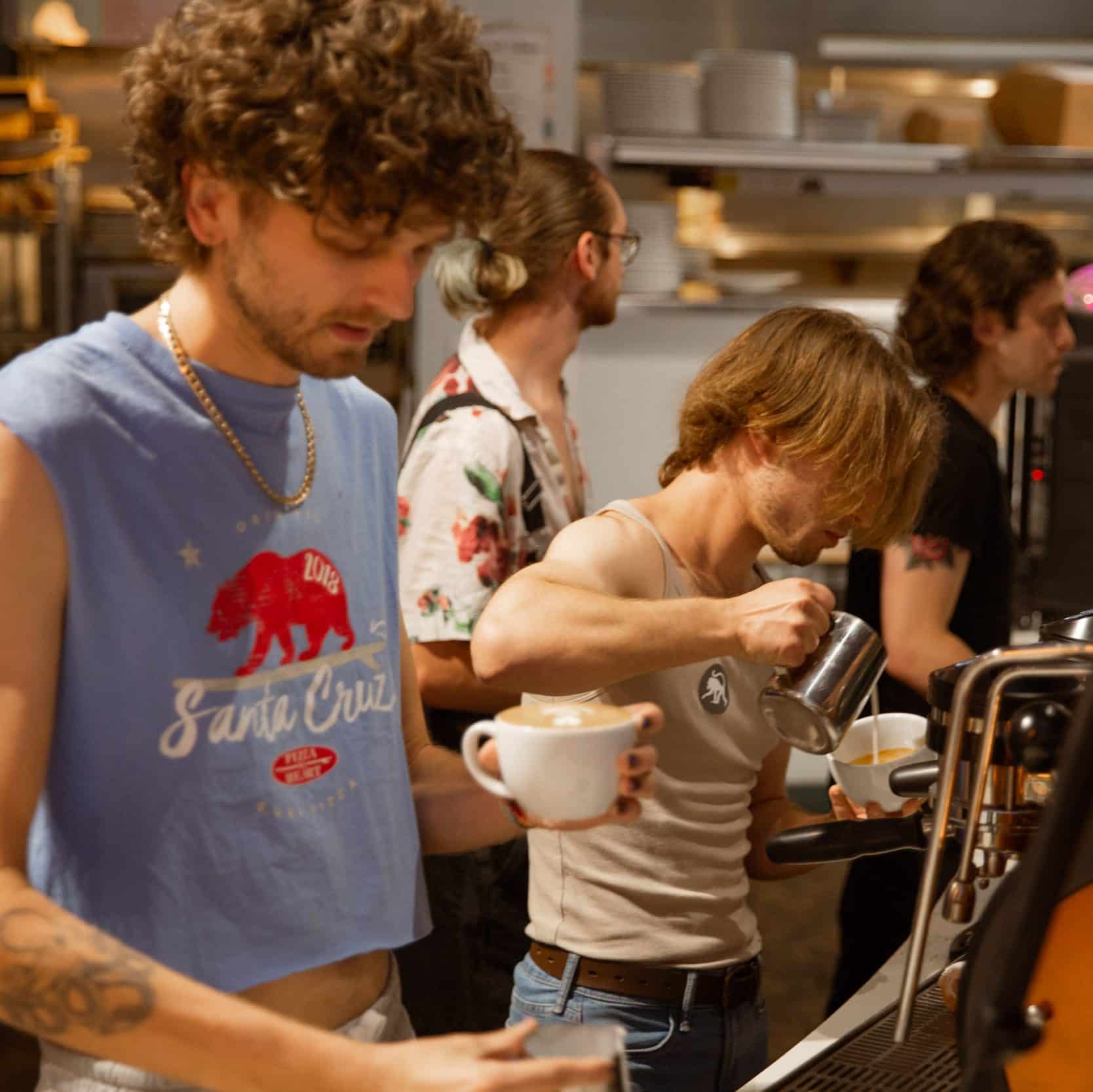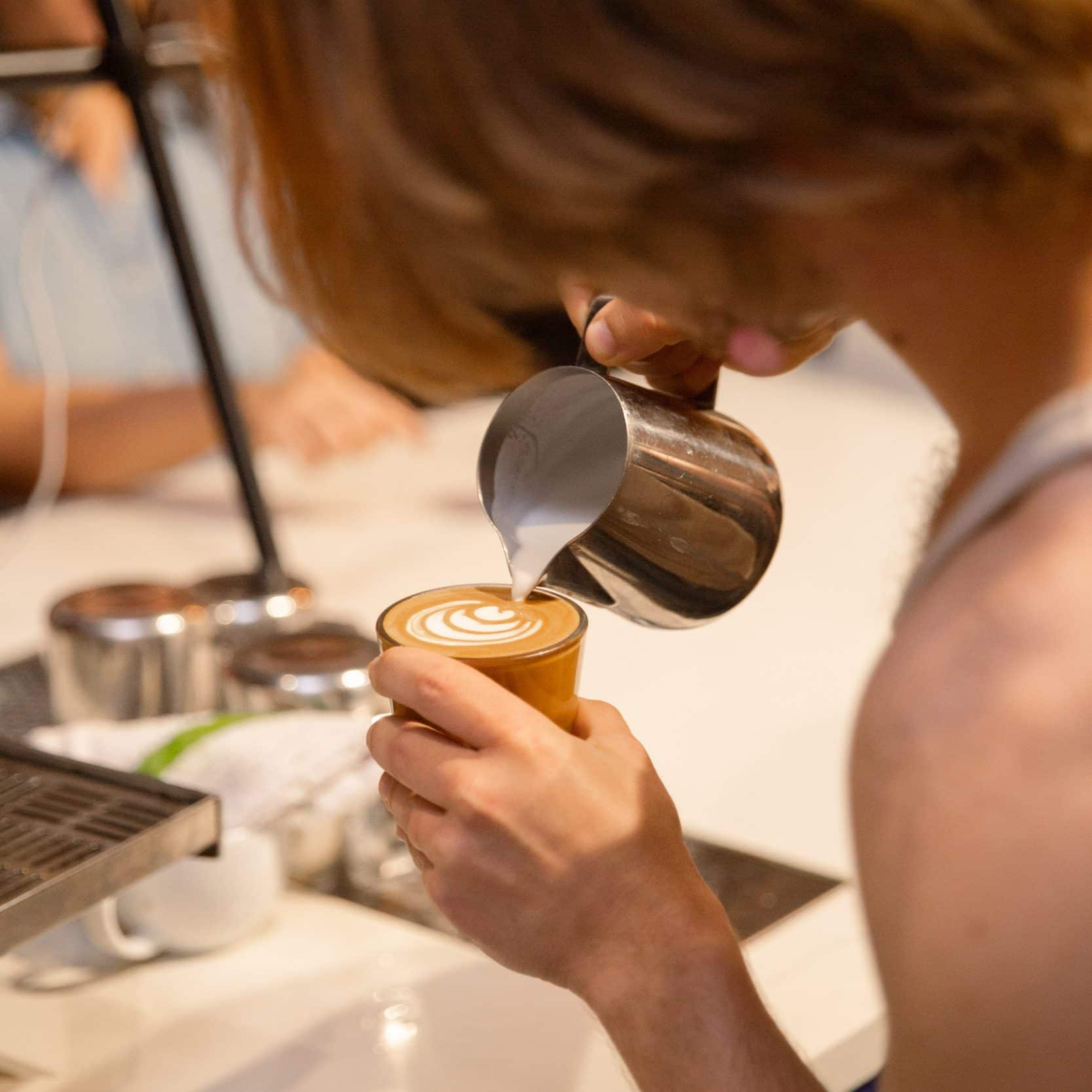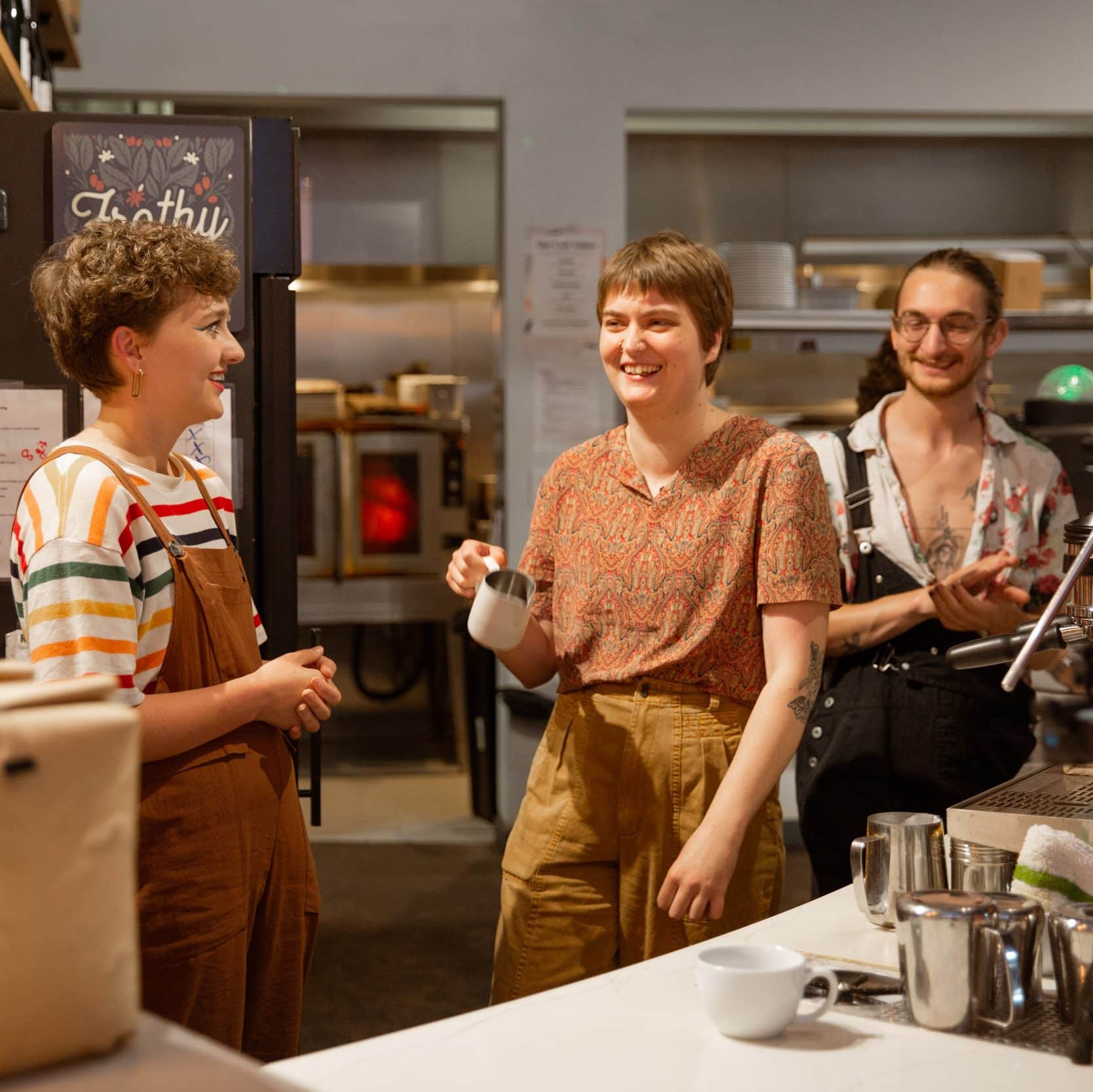 The Frothy Monkey Roasting Company's Lead Educator and Technician, Ryan Bledsoe, says, "A latte art competition is about a few things. It's a gateway for young baristas to grow their passion for coffee, a way to break down barriers and build relationships in the coffee community, and have some fun with friends and coworkers."
Excluding 2020, Frothy Monkey has hosted the Nashville Pride Latte Art Throwdown since 2018. This recurring competition allows us to connect with other coffee professionals, support a local cause, and share some #FrothyLove in our community. We love creating a welcoming and inclusive environment for any competitor. Just like Frothy Monkey's cafes, these events are a place where all are welcome.
Latte art competitions bring us closer to our neighbors and fellow coffee connoisseurs. Baristas of all experience levels are invited to join. We love seeing the creativity and skill of our competitors as they work with incorporating color, alternative milks, and themed rounds.
An event like this is challenging for hosts, too! We learned by trial and error. Our hope is that this guide is a resource for hosting your first competition, and a tool to avoid mistakes we made!
Are you ready to host your own, epic throwdown? Here's what you'll need.
---
Coffee + Equipment
First and foremost, you need the correct equipment and products. Most of these are standard in coffee shops and espresso bars.
Coffee
It's a given. You need quality coffee to pull shots for your lattes. At Frothy Monkey, we use our Howler espresso roast. We also provide all milks and milk alternatives. This keeps competitors focused on creating the best art instead of logistics. We source our whole milk from Hatcher Dairy Farms and use barista product lines from Planet Oat, Milkademia, and Almond Breeze for dairy alternatives.
Espresso Machine
We highly recommend a dual head espresso machine. This allows your barista on bar the opportunity to pull multiple shots at once, and keeps the competition moving. In our shops we use a La Marzocco's Strada Espresso Machine.
Grinder with Hopper
Nothing will slow you down more than having to grind coffee without a hopper! Load up the grinder with your chosen espresso beans and keep the shots rolling. Once your house barista on bar is dialed in, they should not have to fuss with settings to keep pulling perfect shots.
Drinkware or Your Chosen Latte Vessels
Have plenty of drinkware for your competitors! If you're strictly focusing on latte art, you need a variety of cup sizes for your guests. While baristas most often practice on a standard 8oz, 12oz, and 16oz cup, this could be any size.
Moriah from Frothy Monkey Roasting Company says, "You can really challenge your baristas by incorporating unique vessels. It's really anything goes. You could try a ramekin, handmade pottery, a wine glass, a shoe…It's ultimately up to the host."
Stainless Steel Steaming Pitchers
An essential piece of barware for your competition is stainless steel steaming pitchers. You may allow your participants to bring their own, or use a provided pitcher.
Refrigeration
To ensure your latte art is perfect, refrigeration is essential! Cold milk will allow you to create the best latte foam (and keep things from spoiling!). There is a lot of fun science behind this. In short, the milk foam, created by steaming, will perform best when the milk fat is cold.
A bar cooler or small refrigerator should work. You'll just need to prioritize space for the gallons or pints your baristas need.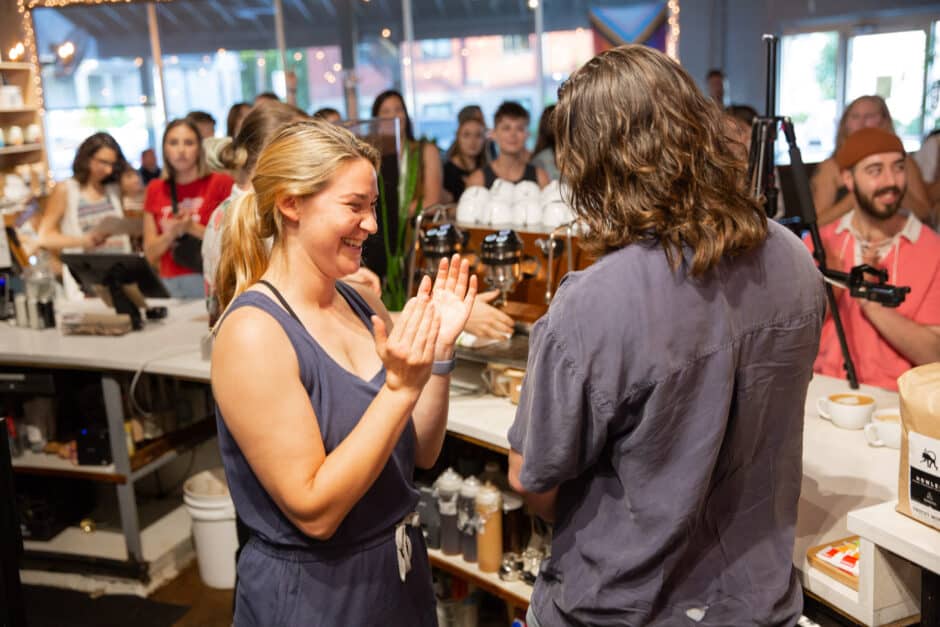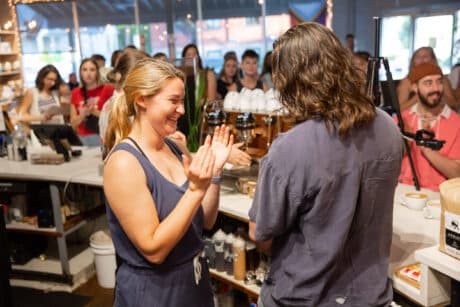 Sink + Cleaning Supplies
You will really run through dishes during a latte art competition! Be sure you have all of the cleaning essentials for your barista on bar, a dishwasher, and extras for messy masterminds that are competing.
Dish Staff – You want a quick turn around on dirty dishes, schedule someone for the evening.
Towels – Wet and dry towels need to be at the ready for wiping down surfaces, counters, steam wands – you name it!
Dump/Wet Sink – It's in health codes, but it's also super useful. Having a sink at the ready will make rinsing and setting dirty dishes aside much easier. This can also aid in preparing your competitors with clean and disinfected hands before the first pour.
Cleaning Spray/ Disinfectant – Be ready with antibacterial hand soap at the sink and your standard cleaning solution for spills or accidents.
Glass Rinser – These are a standard on coffee bars and cocktail bars alike. If you can get your hands on one, you'll save a lot of time rinsing glasses between shots and mitigating the inevitable "oops!" moments when something goes awry.
Mop + Bucket – Mistakes happen! While we never want someone to drop their beautiful latte art, it could happen. Be sure to have your mop and bucket ready with the appropriate cleaning solution.
---
Venue + Space Set-Up
Whether you're a full-service cafe, or coffee bar, you need a venue. Here are some areas to designate at your location.
Work Station + Bar
As we outlined in the first section, you need a bar that's ready to handle the madness of multiple baristas! Secure extra glassware or selected containers, make room for multiple baristas to pour, and purchase the necessary coffee and equipment listed above.
Host Stand
There's nothing better than a friendly face when you enter an event. Even if your guests are not competing, make sure all are welcomed. Direct guests to the proper seating or standing areas and let them know the evening's schedule. If competitors are arriving, direct them to the check-in station.
Check-In Station
This post can be combined with the host stand if needed. Here you will have a POS station or cash box on hand to collect payment and a list to collect contact information like names, emails, shop affiliation, and pronouns. For our latte art competitions, we donate the proceeds to a relevant charity based on the event affiliation.
As an added precaution, remind the competitors of the schedule and requirements for each round. Though they should have access to this information prior to the event, it is best to repeat important timeline items and answer any questions.
Judge's Table
It wouldn't be a competition without lovely judges to determine your winners! For latte art, keep the judges table close to your bar. Avoid using high top tables so judges can view the art from above.
Keep your judges happy! When a judge's table is engaged, the rest of the crowd will feed off of that positive energy. Use your hospitality knowledge to anticipate their needs and provide service like you would a guest. Water and other beverages are always an added benefit for the table.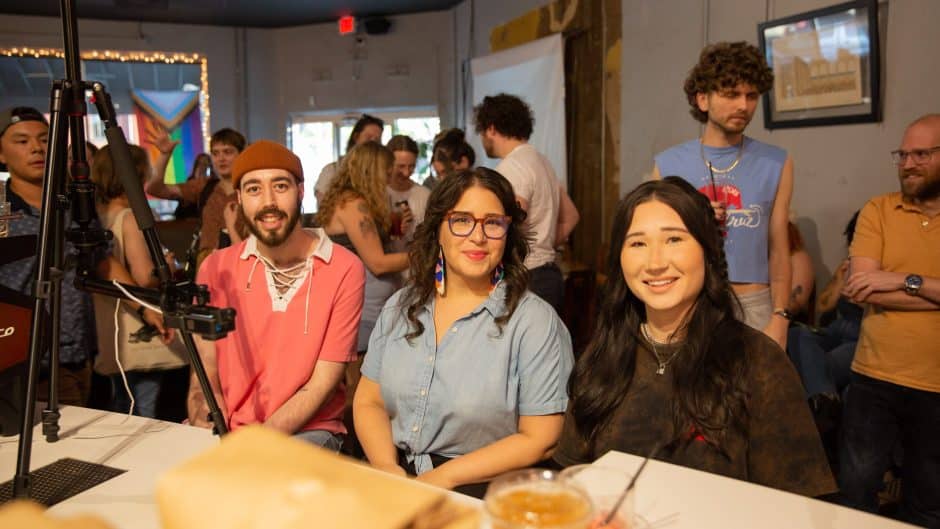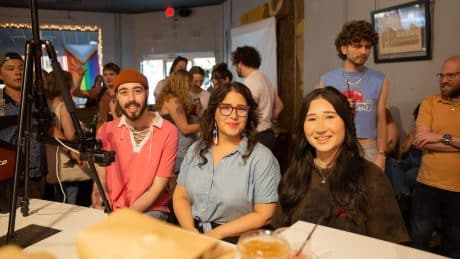 Seating
For accessibility, tired feet, or a place to enjoy a mid-competition snack, keep some seating available. This gives you the opportunity to serve food or drinks if you have a kitchen or bakery case. Additional sales can help offset the cost of the event.
Standing Room
When the competition heats up, guests will want to be in on the action! Choose a good space for guests to stand and observe. This will keep the coffee bar from getting too congested. If necessary, address the crowd before competition on etiquette in the space or mark the area with signage or tape.
Hot Tip: Set up an overhead live stream view of the lattes at the judge's table and project them on a wall or large screen. This view, like an overhead cooking shot, will help the audience view the latte art without crowding the judges.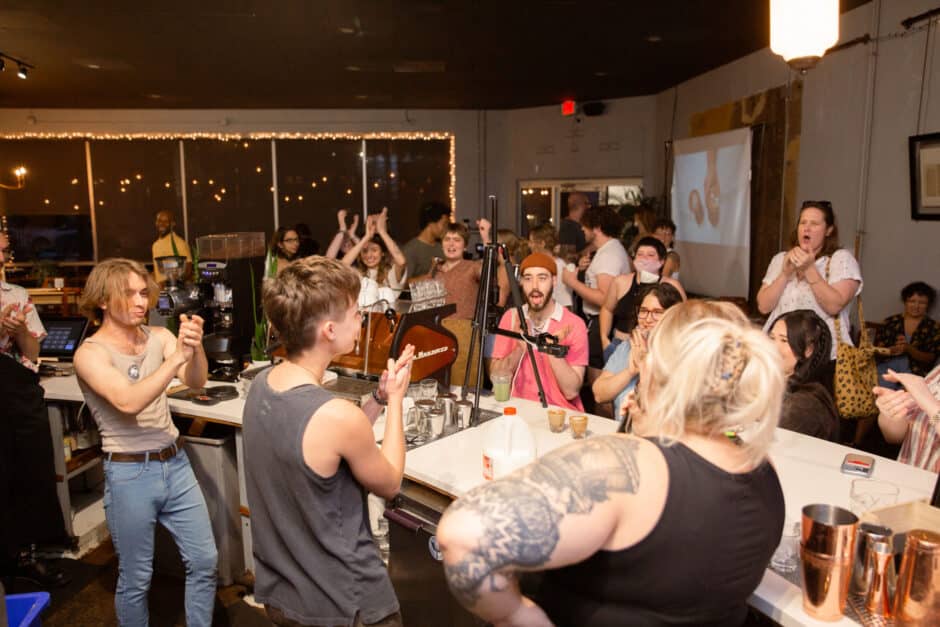 Optional: One Point of Sale
This register could be combined with the check-in station, or a separate location. Keep at least one register open if you serve menu items during competition. You may also have some event swag, bakery items, or other goods available for guests to purchase.
---
Staffing
Event Coordinator
It's important that the whole team contributes, but we advise one person to be your event coordinator. This could be an operations member, a location manager, or a seasoned team member. They should be organized, reliable, and not afraid to give direction. While you want them to oversee the event as a whole, your coordinator will also need to trust your employees and delegate tasks. Trusting employees with key roles can help improve employee satisfaction and encourage growth.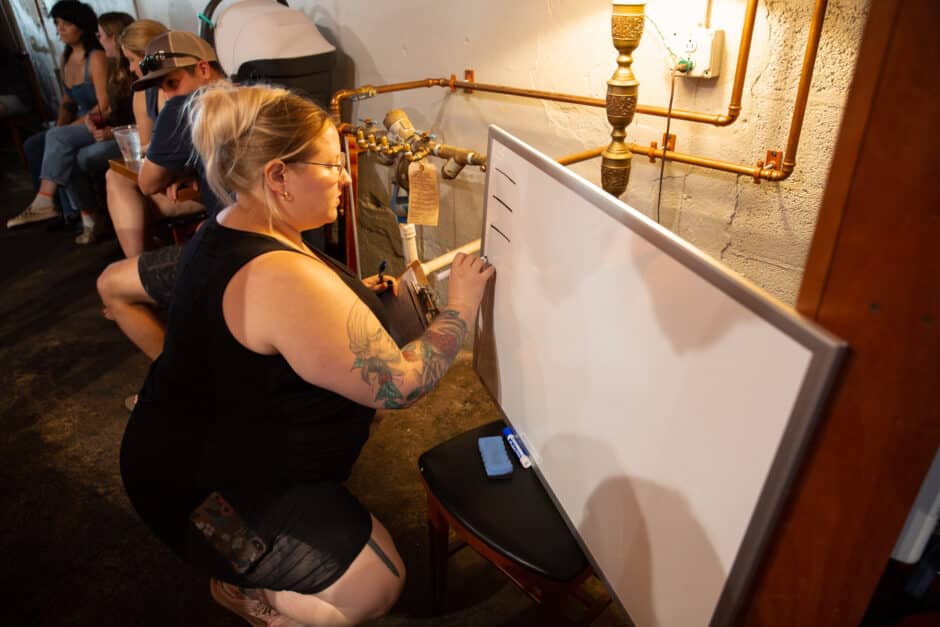 Barista on Bar
One of your most important members is your house barista behind the bar. They are responsible for pulling consistent shots for your competitors and maintaining a clean work space. This barista should execute consistent espresso shots with good crema. Crema is your canvas for latte art, so it needs to be great!
Aside from technical skill, they should have some personality. The ability to connect with a multitude of people will make this position fun. They will be front and center with competitors and should help them feel comfortable and welcome in your shop. This barista will be behind the bar for quite some time, so endurance is something to consider, too.
At the Door
At your host stand, you should have someone interacting with guests! When someone walks in without knowing about the competition, you need a welcoming face to assure them and explain their options..
MC/ Host
For a latte art throwdown, your MC should be someone who is confident on a microphone, and engaged in the event. They will announce rounds, competitors and themes while guiding the crowd through the event. They are also responsible for keeping track of the competition bracket.
Make sure their personality and experience matches the intended atmosphere. If it's a high-stakes competition, choose someone you know can ease tension. For a friendly neighborhood throwdown, find someone that can brighten a room and keep the party going.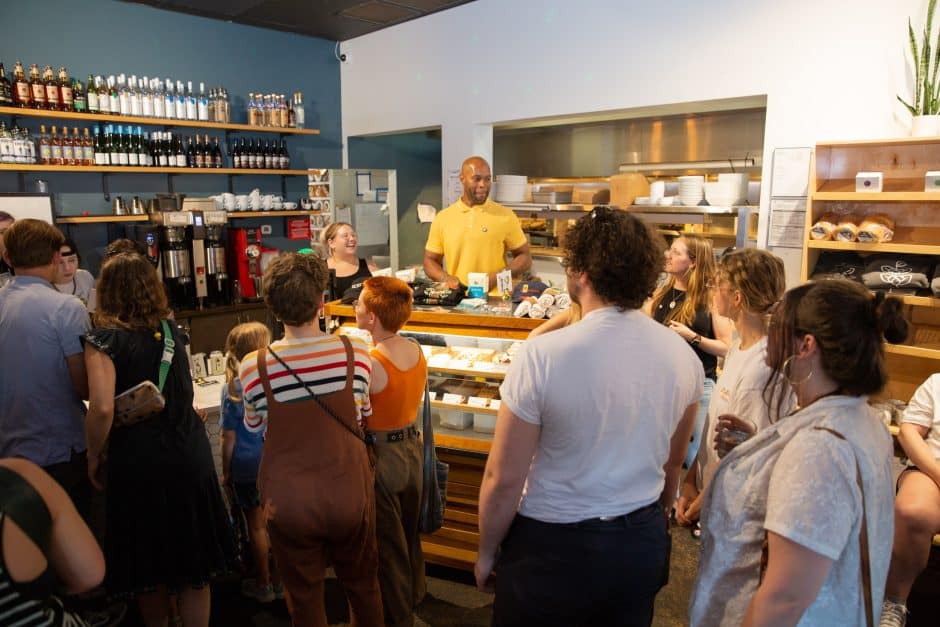 Judges
Consider your theme and your industry connections when inviting judges to participate! We suggest you invite three members of your industry from outside of your stores.
Judges should come from a mixture of disciplines to keep judging interesting. At minimum, judges should have a basic understanding of latte art. Baristas, coffee bar and cafe owners, roasters, even artists would be great to have on board.
Judging Criteria
While there are Rules + Regulations for official World Latte Art Competitions, our judges score based on visual assessment. In a basic round, the following are considered: quality of milk foam, clarity of design, contrast between ingredients, level of difficulty, overall impression.
You may choose to make a scoresheet, but in this setting, we typically have judges point to their choice between two.
Service + Kitchen Staff
Is your kitchen going to be open during the competition? The answer is up to you. We keep our kitchens open to maximize the guest experience. Between rounds, or before the competition starts, audience members may need something to fill their bellies. This includes cocktails, food, and bakery items.
Service staff and kitchen staff are essential if you offer food and beverages. Staff up appropriately.
---
Schedule + Event Details
Rounds
Determine how many rounds you want to run. Each round should provide a different challenge. It could be the container you're pouring into, the milk or milk alternative required, or artistic additions. We often plan five rounds, with the last round as a challenging staple for all baristas, like a cortado.
The time needed to complete each round will vary depending on the number of competitors. We suggest between 30 – 45 min per round to allow enough time for pulling shots, pouring art, and judging. When rounds become too long, you may lose interest or momentum, so keep things running smoothly and quickly.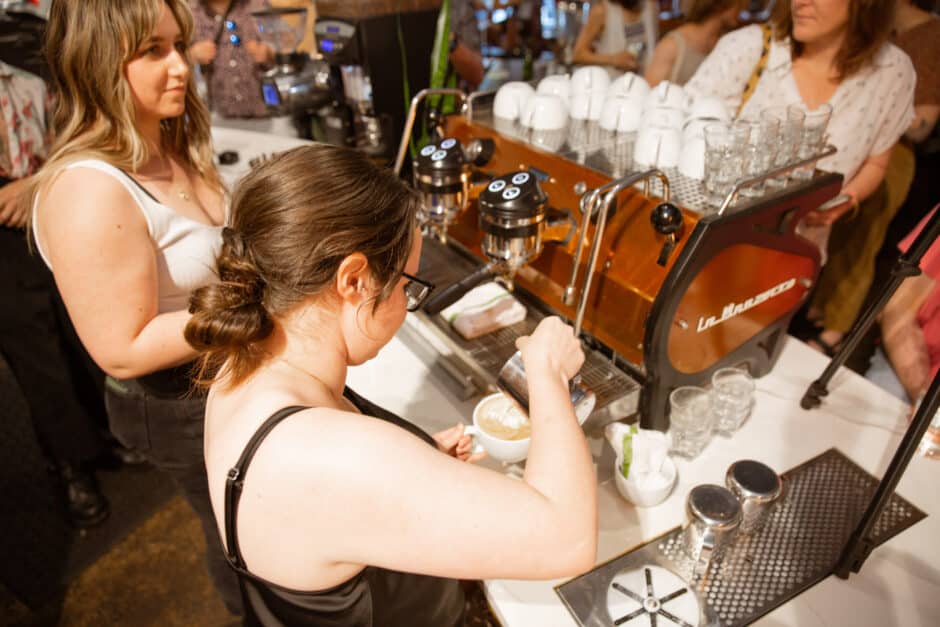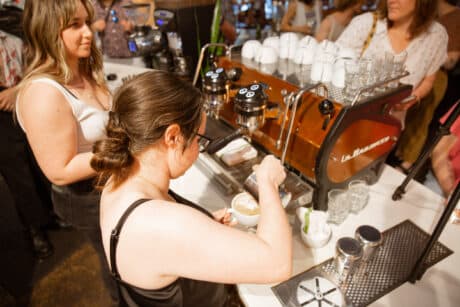 Schedule
Any well-run event needs a schedule. It may seem simple, but it will help your guests, your staff and your sanity. Your Event Coordinator should create this schedule and review it with the whole team.
Be prepared for on the fly changes! Things can get a little wiley with competitions. Use your hospitality skills to pivot and continue your event.
Sign-Up Limit + Bracket
Set a limit for the number of competitors you want to compete. This number will vary based on the size of your space and the time allotted for the event. With too many participants, you may run over time. In promotional materials, include information on maximum competitors and how to sign up.
Create bracket configurations before your event. If you have the limit at 16, build brackets for 14, 12, 10, etc. With these tools already in place, it will be an easy transition with cancellations or unfilled spaces.
When registration closes, the list of competitors should be shared with the MC so they can build the bracket and begin announcements. We like to display our brackets on large foam boards, or white boards for everyone to see during the event.
Set up + Tear Down Time
Plan time for set-up and tear-down. You may need one to two hours. This may require you to temporarily close, but it will make your event run much smoother and avoid uncomfortable dining experiences for your guests.
To mitigate the disgruntled customer coming in during set-up, advertise a temporary closing on social media, event posters, and customer interactions throughout the week leading up to your event.
Requirements for Participants
Requirements for participants are very minimal for our competitions. We only require basic barista skills needed to create a latte and an entry fee. You don't have to be a lead barista, or an award winning employee to come out and participate.
Consider things like closed-toed shoes for safety, or asking participants to pull their hair back if it is long, and the basic clothing requirements like shoes, shirt, etc. for health and safety reasons.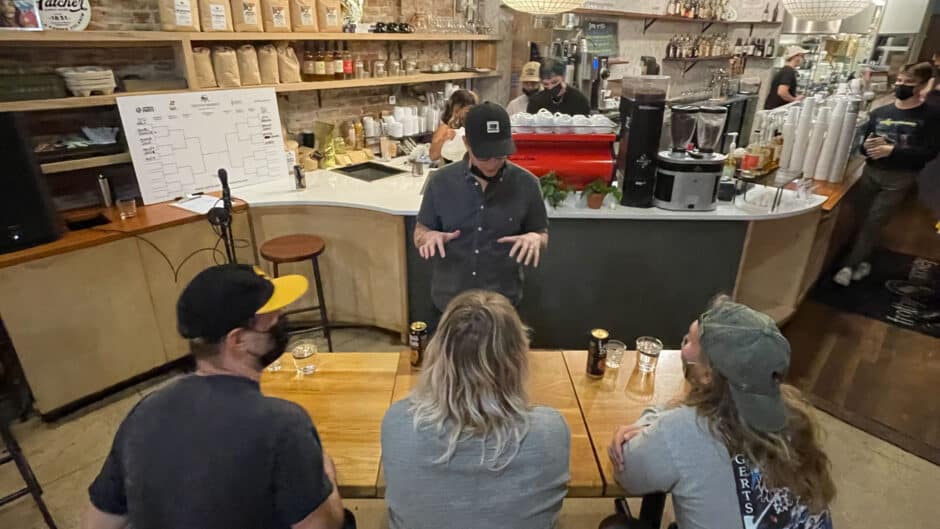 Theme
This is the FUN part – aside from the competition of course! We love hosting our competitions as a part of Nashville Pride Festival, so we incorporate the pride flag and colorful themes throughout our marketing. You can make this a celebration for a holiday, a season, a certain person or just because.
Here are some fun themes to help get your creative juices flowing.
Dolly Parton – Incorporate millennial pink, sparkles, country music, and a philanthropic donation to children's reading programs
Christmas – Red and Green, baby! Bring on the Christmas tree art, toy drive donations, and classic Christmas music.
Secret Garden – Bring out the floral decorations, latte art with flowers and leaves, tea time or picnic food!
Your Favorite Philanthropy/ Non-Profit/ Cause – Build your latte throwdown around a cause that is important to your brand or business. Partner with your community organization to bring this event to life!
Example Schedule
Here we have provided a sample schedule from one of our latte art competitions. This formula allowed 45 minutes for the first round (since it is the largest in a bracket) and to help get everyone in the groove. From there we bump it down to 30 minutes to keep things hustling. This was based on a 30 person bracket.
4:00 PM – Set-Up
6:00 PM – Doors Open – Registration
6:30 PM – Round 1 / Challenge 1 (Freestyle)
7:15 PM – Round 2 / Challenge 2
7:45 PM – Round 3 / Challenge 3
8:15 PM – Round 4 / Challenge 4
8:30 PM – Final Round / Challenge 5
9:00 PM – Awards
10:00 PM – Close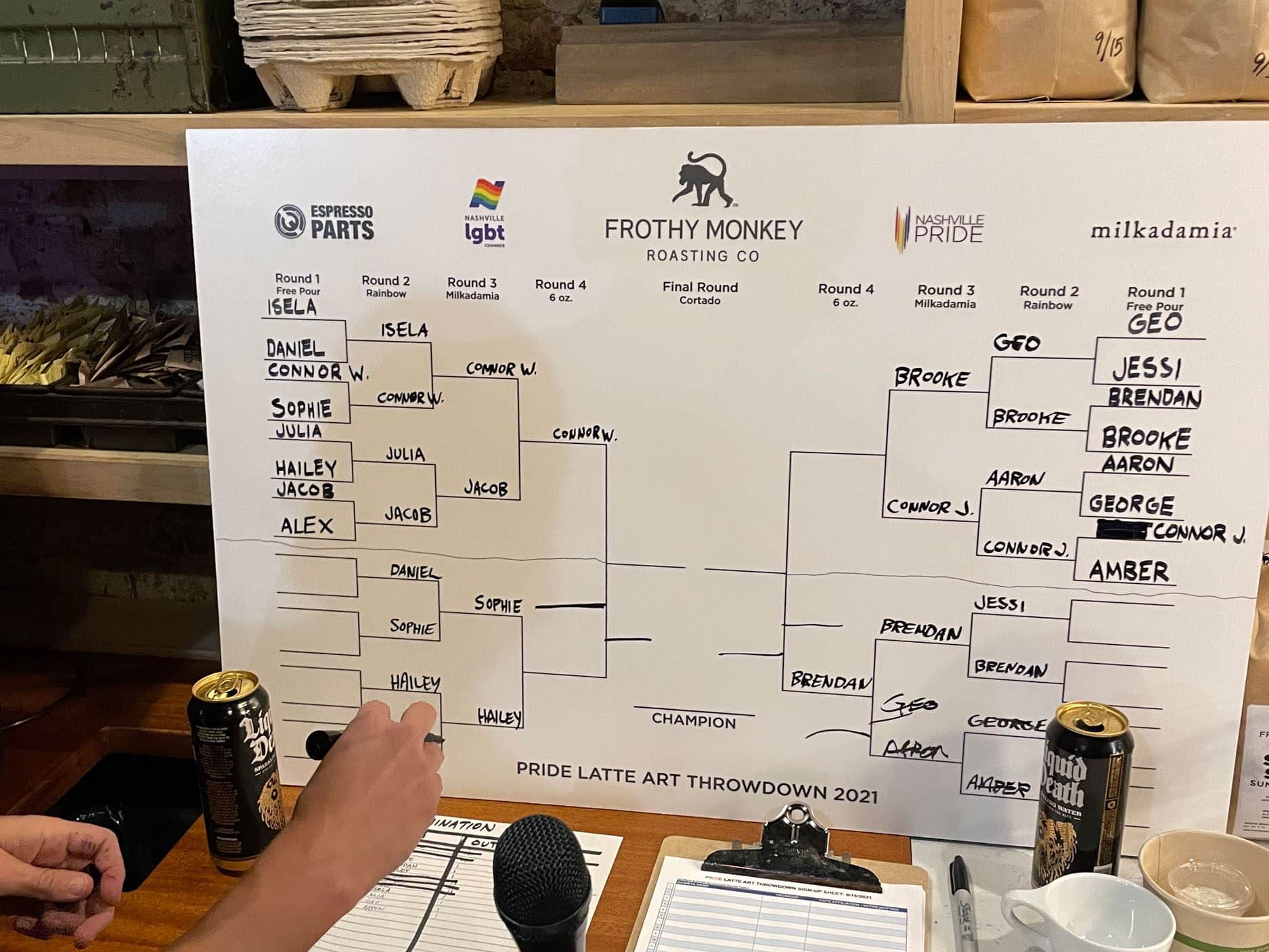 ---
Marketing + Promotion
We approach our latte art competitions with a mixture of organic marketing efforts. This portion of your event planning heavily depends on the size and scope of your event. Here are some of our best suggestions for getting the word out.
Social Media
An easy and effective way to start the buzz, is to get the word out on social media. Your Instagram, Facebook, Twitter, TikTok…all of these platforms are essentially free advertising. That is, if you take the time to post!
Graphics + Videos
Video and clear infographics are a win-win for both you and your audience. Video content helps viewers retain more 95% of your message when they watch it in a video, as compared to 10% retention from an image. So, make sure to have some fun with it! It doesn't have to be a blockbuster film to get the attention of your audience. Film a spoken invitation by your event coordinator, a view of the competition space, or one of your employees talking about the event to get the convo started.
If you're pressed for time, be sure to design a poster or event announcement. Old school methods still work! Look for community boards, send an email or text to invite people you know, and hang your posters in your space. If you're a part of Facebook groups for your area and industry, make a post there, too.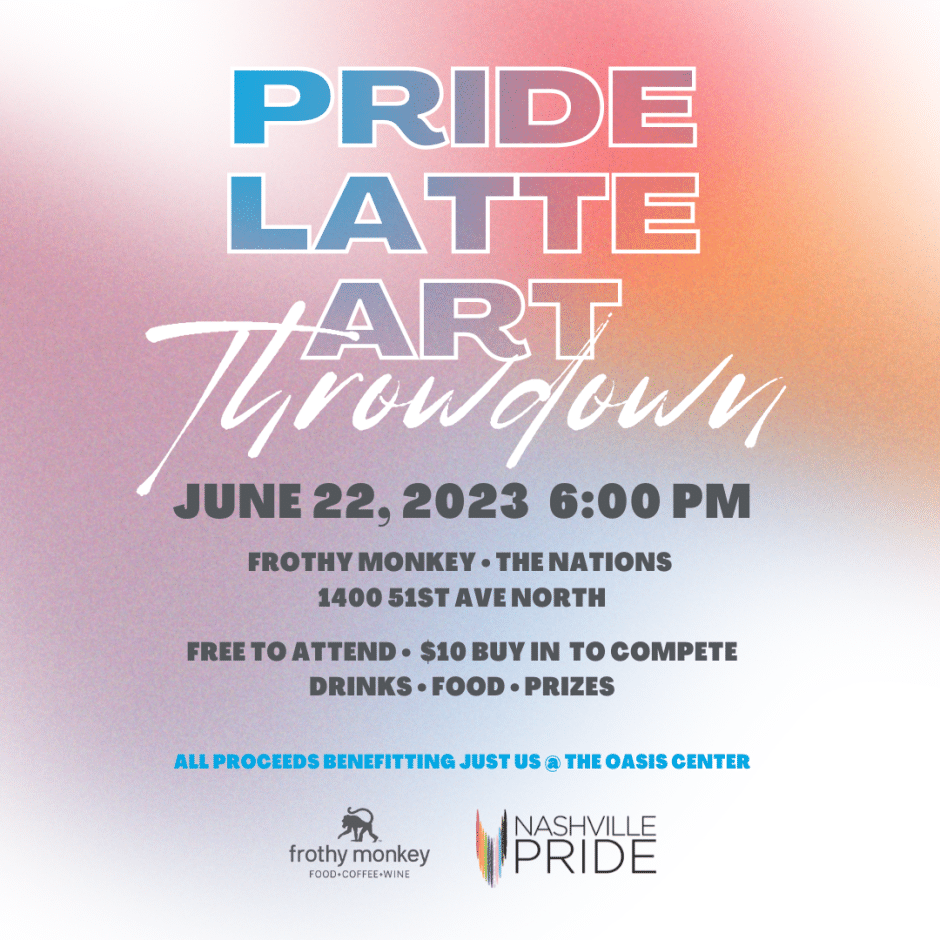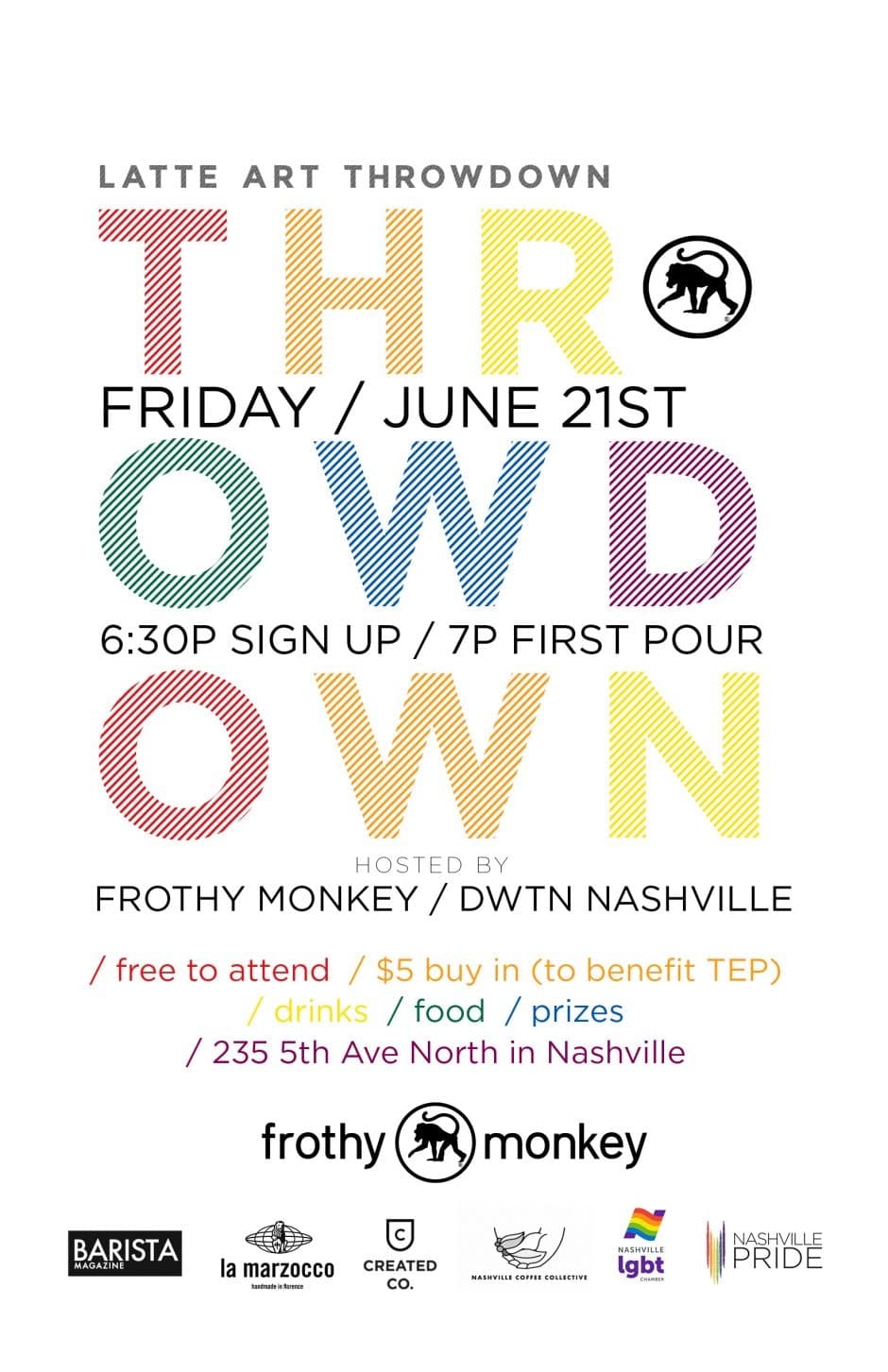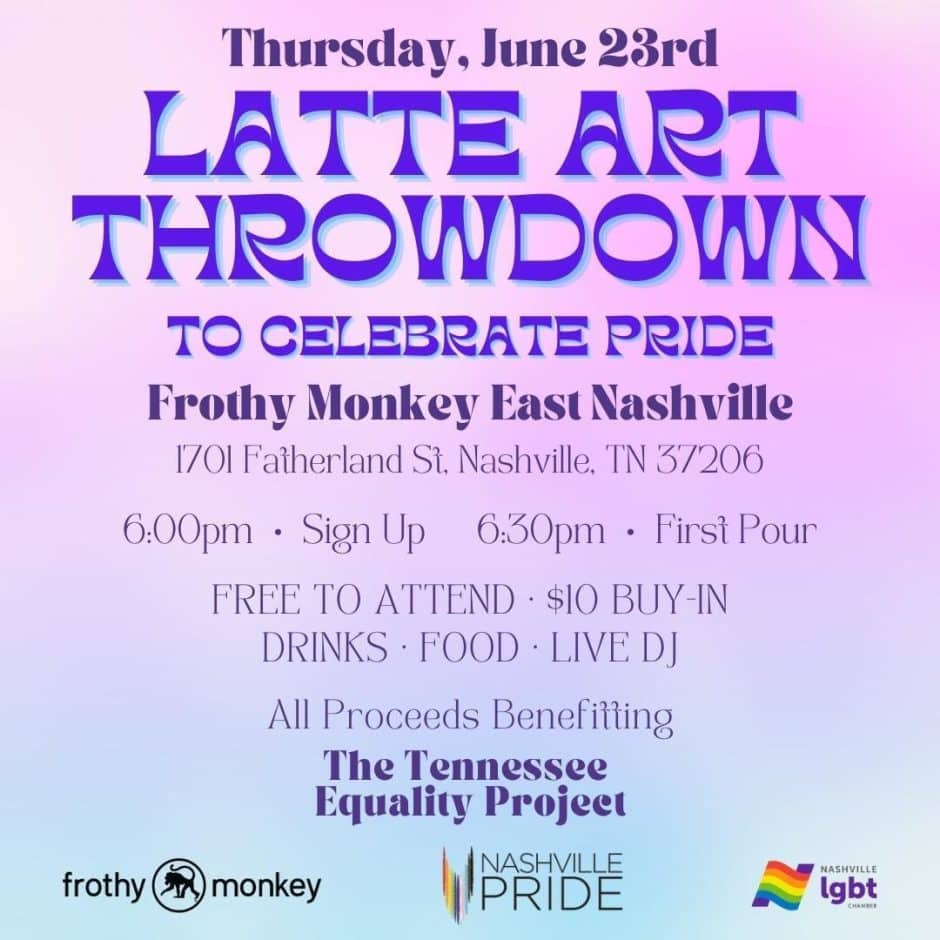 Sign Up Link for Baristas
Create a form with integrated payment. Include this sign-up on your social media or website. To avoid no-show contestants, we suggest collecting payment online. People are more likely to show if they have already made a monetary commitment.
If you're not able to collect payment online, simply plan 30 minutes prior to the first pour for registration and payment out of the way.
Link to Event Information
Create a blog post or web page for your event. Include all important information for the event including the date, time, location, participant requirements, rounds, prizes, etc. Link to this post in your feed, groups, pages, and stories to spread the word.
Tagging and Promoting Competitors, Judges, Product Sponsors, etc.
When you're posting on your social platforms, tag important participants. If this event is fundraising or building awareness to a certain organization, include them. Tag your judges, your competitors or sponsors of the event.
Community + Strategic Partners
Check in on your community partners, strategic partners, and suppliers to get them in on the fun. Extend an invitation to participate and mention your interest in event sponsorship or prize donations. You may be surprised at the response! If there is a philanthropic element to your event, these businesses may make a monetary or prize donation to support your cause. If the event promotes something in the businesses demographic or community, they may share it on social media as well.
Direct Invitation
Are there baristas or shop owners you want to connect with? Direct invitation is a great way to build relationships in the coffee community and get more competitors registered. Reach out via email, or direct message their shop on social media to extend a friendly invitation.
Event Calendars
Find the movers and shakers in your community and get on their website's calendar! This may require some lead time, so investigate online community event calendars at least 4 weeks before your event. Submissions often require, date, time, short and long descriptions and ticket/admission information. A great example of this in the Nashville area is Now Playing Nashville.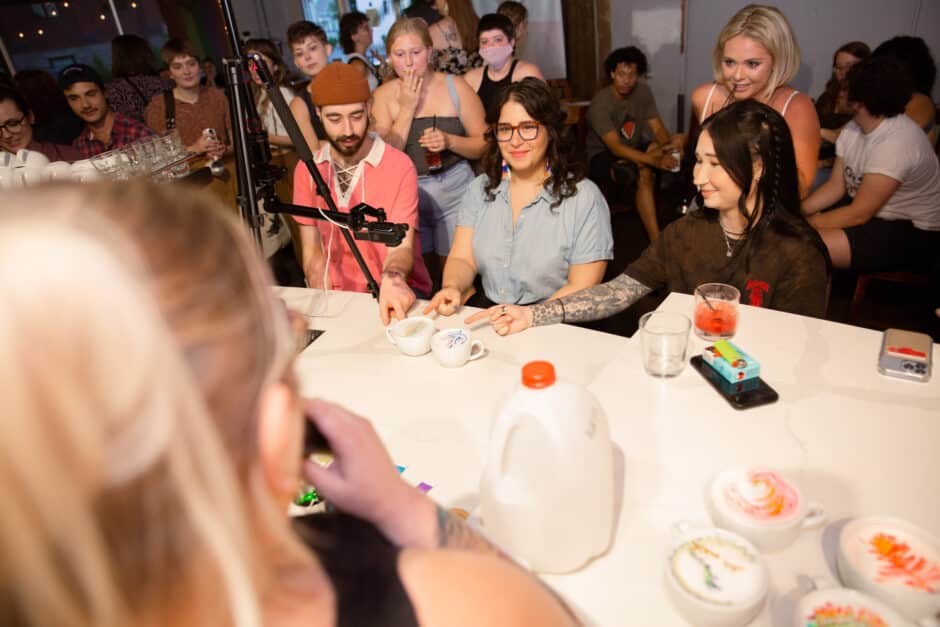 ---
Make It Fun! (Vibey Extras)
Everyone loves a little something for their hard work!
Prizes, Gift Bags, Merchandise, etc.
Options are endless when it comes to your prizes. These could be donated cash or gift items from community partners, or bags put together from your own company's merchandise. We recommend a gift bag for each judge and a prize for first, second and third place in the competition.
Create event specific merchandise like T-shirts or coffee mugs or keep it simple by including your standard merchandise. In the past we included gift cards, coffee syrups, bags of coffee, t-shirts, tumblers, and mugs. Have some fun with it! Depending on the theme, almost any prize could be applicable.
Hot Tip!: While there is quiet time between rounds, keep your crowd engaged with an activity. Use extra prizes to create a raffle or trivia prizes.
DJ, Live Music or Curated Music Playlist
Hiring a DJ or Live Musician is one of our favorite things to include at our competitions. It's a great way to engage with other businesses and create a fun and friendly atmosphere.
If space or a budget don't allow for hiring talent, consider creating a playlist with your event staff. If there's one music guru in your group, maybe they'll take charge. However you organize it, we always love a fresh playlist.
Hot tip! Creating an event playlist is a great way to give audience members and competitors a "take home" experience. Create a QR code linked to your playlist and attendees can re-visit the playlist whenever they want!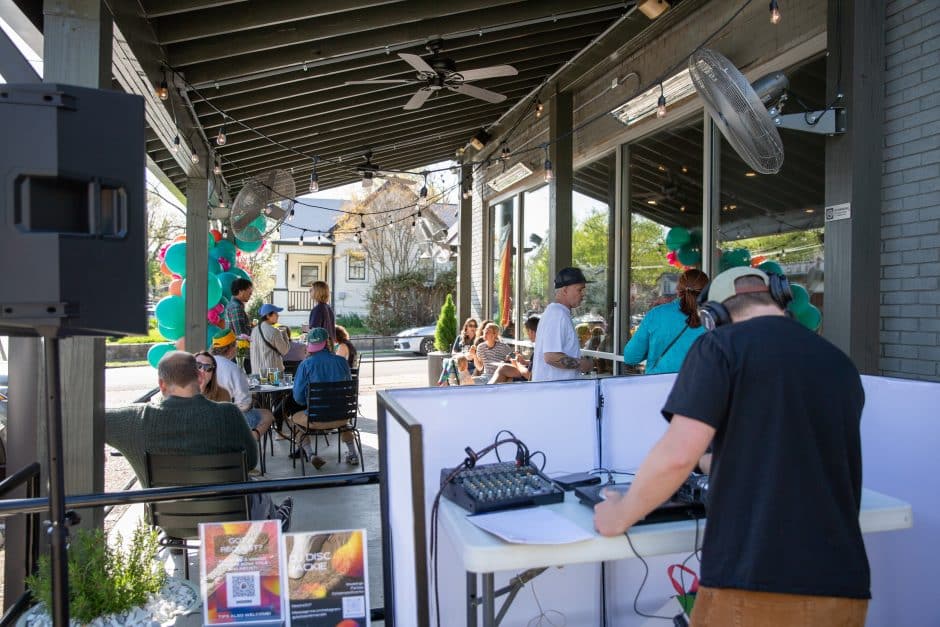 Decoration
For our competitions, we run with the motto less is more. Your space will ultimately determine how large or small you want to go with your decor. It's important to us to create comfortable spaces where guests don't feel overwhelmed.
Some ideas from our past competitions would be a banner, a balloon arch, or small table settings. Colorful seasonal flowers or table tents (a great place to place a QR code!), help to define seating spaces without taking over seating areas.
Hors D'eourves / Snacks / Fare
Food is always a great way to get people together. This could be anything from menu samples, to cookies from your favorite local bakeshop. Think about your theme and what foods could tie in here.
Creating your Ultimate Latte Art Competition
We truly hope this latte art competition guide helps kick-start your event! There's a lot to think about in event planning, but the main idea is community, friendly competition and of course- coffee! Let us know if there's anything we missed! We're excited to hear about your events.
xoxo Frothy