Ah, Knoxville – our patient new neighbors…We're open!
We're overjoyed with the amount of support and #frothylove you have shown us on our journey to opening this location. It's been a long time coming. We're ready to see you in Downtown Knoxville at 417 S. Gay Street in the historic Kress building.
You may be familiar with The Kress Building's history as a department store in the 1920's, or more recently J's Mega Mart. We hope our all-day cafe will provide a unique experience for neighbors and visitors in Downtown Knoxville.
Pardon our hours while we hire and train!

Current hours are limited to
Wednesday – Friday 7 am – 9 pm
Saturday – Sunday 7 am – 3 pm
Monday – Tuesday – Closed

Future hours will be
Monday – Sunday 7 am – 9 pm
We're ready to serve you fresh specialty grade coffee, breakfast and brunch until 5 pm and lunch and dinner options from 5 pm to close. Belly up to the bar for local beer, wine, and handcrafted cocktails or enjoy the view of Gay Street from the from the indoor mezzanine or outdoor patio.
Come on in! Share a smile, sip, and stay a while.
xoxo Frothy
Behind the Design for Downtown Knoxville Frothy Monkey
Downtown Knoxville has been on our mind for a long time. Finding the perfect place felt like it took even longer. We're grateful to be in such a historic location and excited to welcome neighbors back to the Kress building!
Historic Preservation
During the build out, we repurposed some original features, but many of the historic details were lost to the years. However, the work of recent owners and historic preservation groups brought back the original exterior including the red "H.S. Kress & Co 5-10-25 Cent Store" sign and glass mezzanine windows.
Inside, structural updates required new support beams. The original beams found a new purpose as bar shelves and new stairs to the mezzanine. These beams may be almost 114 years old! Contractors believe they were harvested from the Smoky Mountains back in the 1920's. Now, the beams have been milled and cut to serve as bar shelves and the stairs to the mezzanine.
Historic column supports with ornamental capitals are still visible on each side of the cafe, and original brick lines the back wall. The only interior view of Strong Alley (Graffiti Alley) can be seen on the back windows of our space, creating a unique vibe for the cocktail bar.
Design Choices
The incredible height of the ceilings in this space posed a unique challenge and opportunity for this cafe's design. We've transformed the entrance of the building to include partially covered outdoor seating, a recessed doorway, and an interior mezzanine. In turn, lowering the ceiling height for the entrance and making the entry and coffee bar cozier.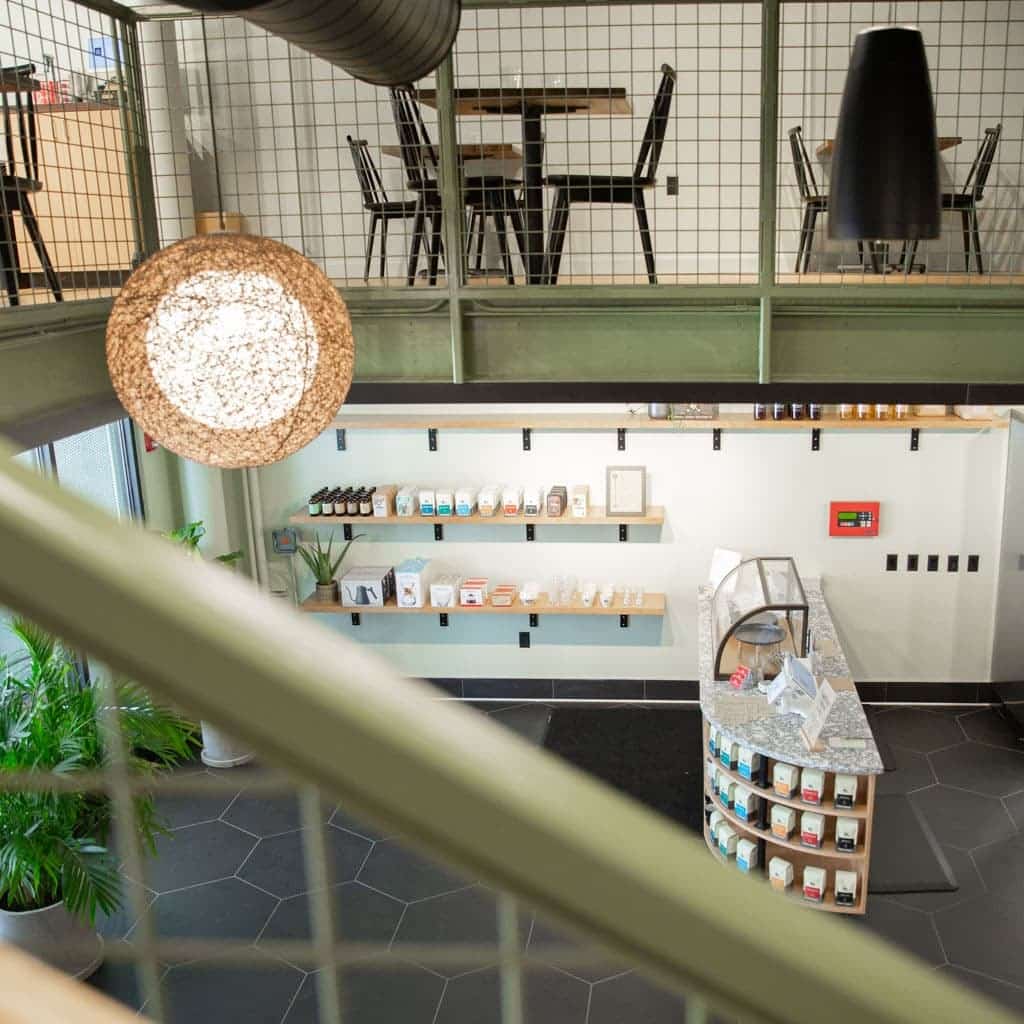 "We have dreamed about this set-up for other locations," managing partner Ryan Pruitt says, "Each time it didn't work out and we were a bit heartbroken, so it's been in the back of my head for a long time."
Black hexagonal tile and sage green penny tile create texture and warmth in the outdoor seating area, and flow into the entrance of the cafe to the coffee bar. Rich black and white marble countertops and custom finished matte black La Marzocco Strada espresso machine integrate perfectly to the color scheme.
Interior colors were inspired by Director of Hospitality, Brittany Russler's trip to Morocco in 2019.
Russler says, "You might think of busy mosaic tiles when you think of Morocco, but I pulled our color palette from one specific restaurant. It was all jade green. The richness of a singular color made the space feel mellow and soothing." As new life makes its way into the cafe, Russler imagines more organic materials being added like plants and local art to cozy up the atmosphere.
As guests move to the main dining area the vibe shifts as the ceiling rises and more energy is moving in this central area. A spacious main dining room is great for groups and family meals. Thoughtful seating options like banquets, booths, and standard tables are available to meet people's needs, no matter the occasion.
Guests looking for a more intimate setting, remote work, or a simple coffee stop can enjoy ample outlets and smaller tables on the mezzanine. This new interior level provides an overlook of the cafe, as well as Gay Street.
Inside Frothy Monkey Knoxville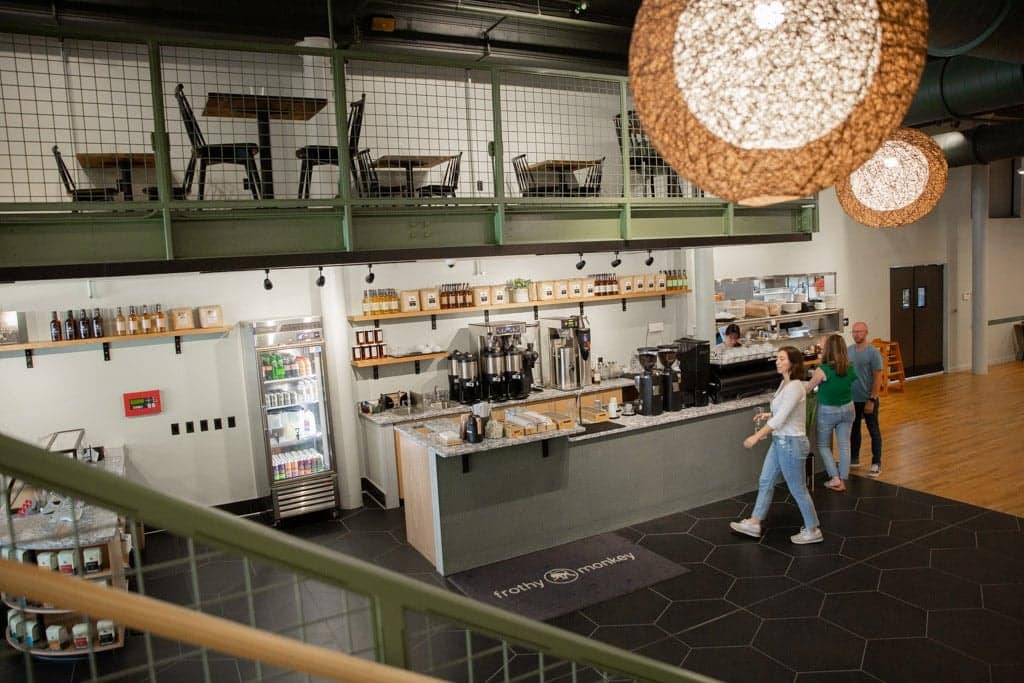 Looking into the cafe, over the mezzanine, guests will get a great view of the bar. Cheeky wallpaper, gleaming glass bottles, and incredible marble countertops will spark some conversation. A soffit above the bar creates another inviting area with an ADA accessible bar top, floating wood shelves (made from original beams), and soft light from the back windows.
Russler says, "I want guests to be curious about what's happening in the bar area. It's got texture, and contrast, and just feels good. The excitement of the bar is really well balanced by the dark tile in the entry. It helps draw your eyes across the space"
Local Collaborators
It takes a neighborhood to build our all-day cafes. A well deserved shout out to all of the friends, partners, and collaborators that made this location possible. To name a few…
Cooper Collins, friend of Frothy Monkey, built our gorgeous Boos block table tops.
Hazelwood Audio did an incredible job bringing sleek integrated sound systems.
DIA and Denark Construction's collaborative spirit and hard work to build out this beautiful space.