Looking for an alternative to a cocktail bar? Are you or your guests big caffeine fans?
Bring some #frothylove to your event with our mobile Coffee Wagon for coffee catering. This small but mighty coffee catering vehicle is fully equipped to serve you all of your classic favorites like lattes and drip coffee to Frothy Monkey Cold Brew Coffee on Tap!
We serve our own Frothy Monkey Roasting Co. coffee, house-made syrups, and locally sourced dairy to bring you the best coffee experience in Nashville.
If you are looking for bagel trays, breakfast trays, sandwiches, or coffee boxes visit our small format catering page for info.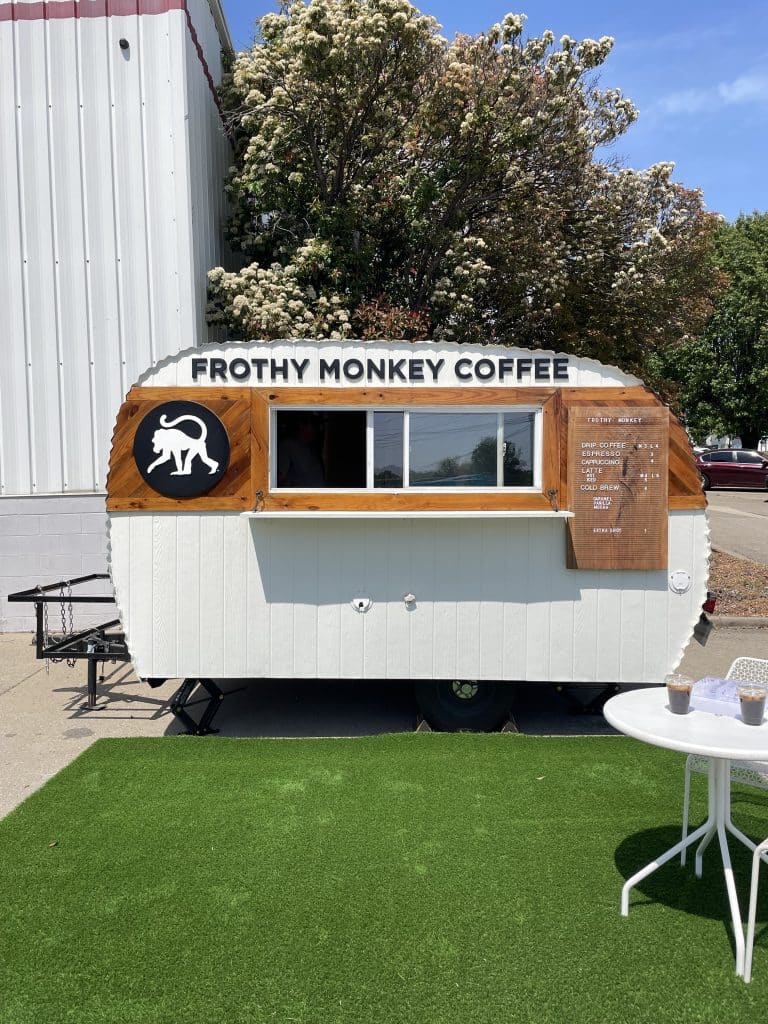 Answers to Frequently Asked Questions
Pricing starts at $1,350 and includes the following:
• 4 hours of service for up to 200 guests
• 2 baristas
• Unlimited beverages (hot coffee, latte, cappuccino, espresso, chai, hot chocolate)
• Choice of 3 flavors (vanilla, hazelnut, banana, pecan, mint, chocolate, white chocolate, caramel)
• Choice of 1 milk alternative (oat, almond, macadamia, or coconut milk) *Standard whole milk offered
• Tax & gratuity are included

Additional costs include:
• Frothy Cold Brew coffee keg
• 2 extra hours of service

The wagon uses generators to run which create a little bit of noise, so please keep this in mind for the location of your event. Generators can be set up to 25 ft away if needed.

Prices are subject to change.

Does your site have a 7′ x 11′ flat area outside to park the wagon? Please add this information to your submission.
Book the Coffee Wagon
Inquire about our small but mighty coffee catering wagon for your event.
Submission of this form is does not secure reservations of the Coffee Wagon. Our team will be in touch with you after your submission to discuss details and more information about your event and our availability.
Looking for Small-Format Catering?
Small-Format Catering of bagel trays, breakfast trays, sandwiches, etc. is available to order from our Nations and Chattanooga locations.
Visit the Small-Format Catering page or the location pages under "Dining Options" for more information and helpful links.