Vibrant and uplifting, much like the artist herself, the Paris Woodull Illustrations shop sits on the 100 block of Gay Street in the Old City neighborhood of Knoxville, TN.
Starting with with a cheery "Howdy!" rainbow mural and Kelly green shop accents, the space is beautifully curated to suit the artist's colorful designs. T-shirts, keychains, tea towels – you name it and she has probably screen-printed it or designed it.
Paris Woodhull x Frothy Monkey
When visiting Knoxville, the Frothy Monkey team couldn't help but notice Paris's distinct style showcased throughout the Downtown Knoxville area. Whether it's the map mural at Petro's Chili and Chips, keychains and t-shirt designs at the Knoxville Visitors center gift shop, or relatable mental health stickers and prints at Rala in Old City, Paris is truly a part of what makes Knoxville unique.
We turned to Paris to when looking for an artistic partner on an illustrative project for our new website. We're happy to reveal the new illustrations from Paris Woodhull Illustrations for our locations pages on https://www.frothymonkey.com.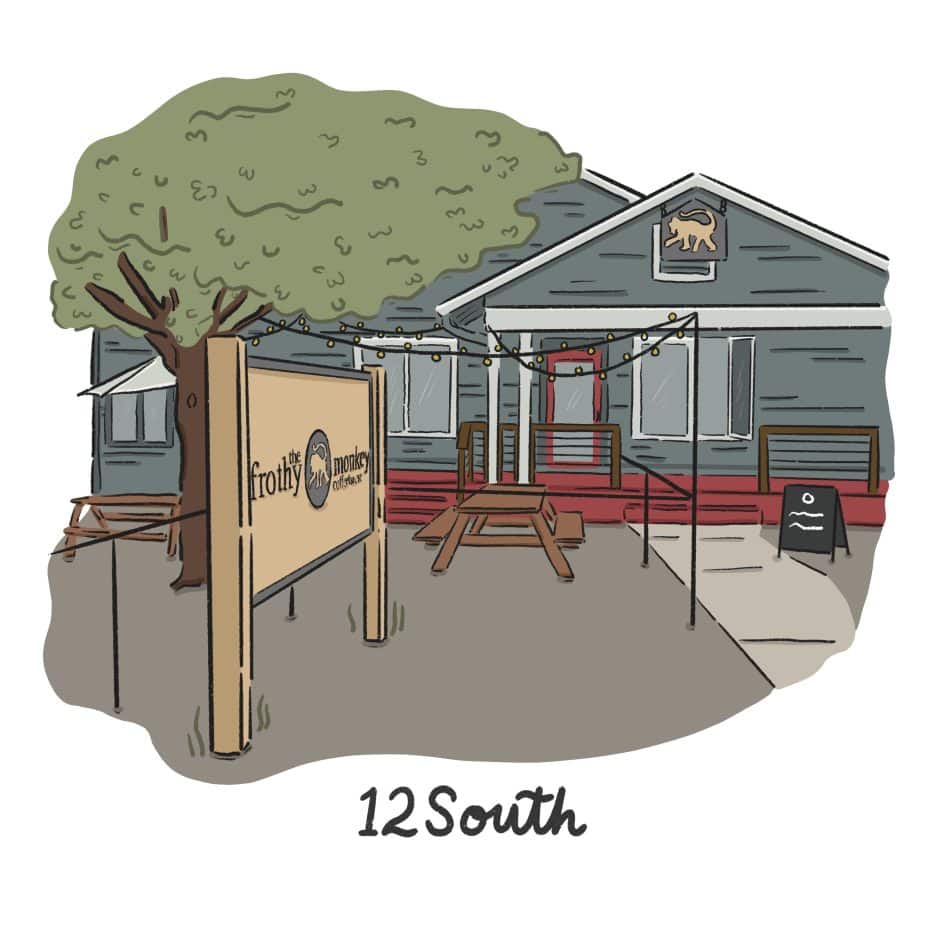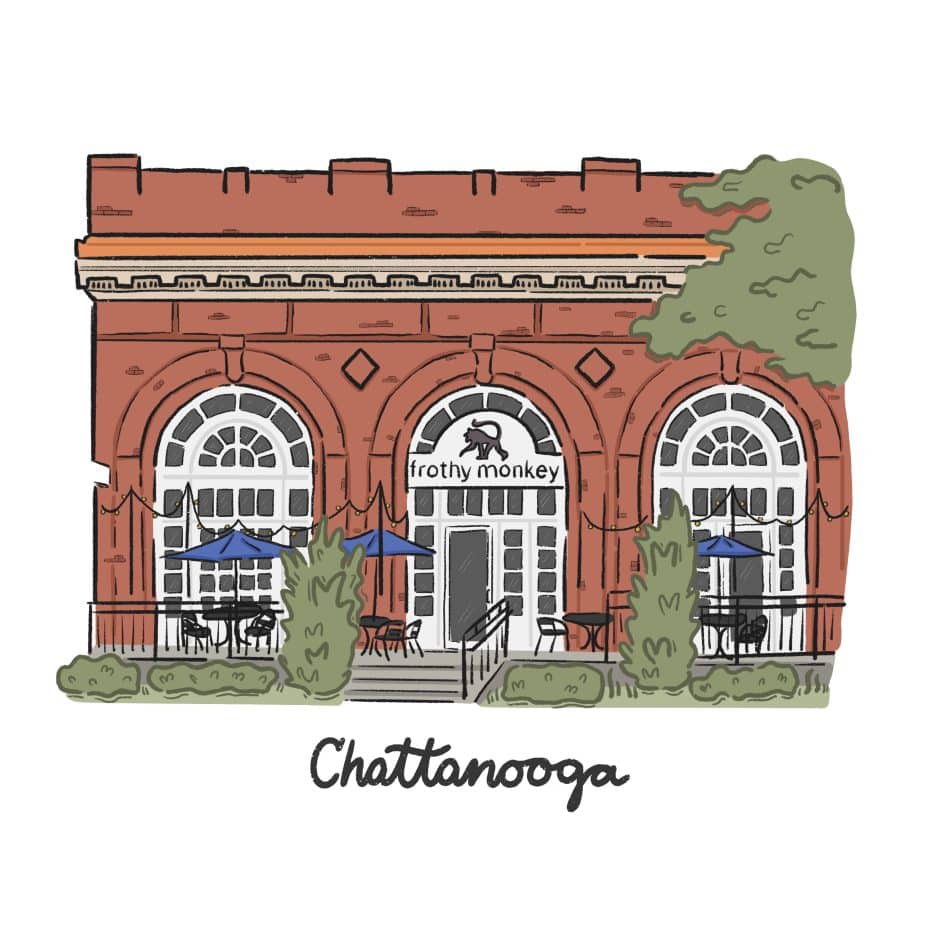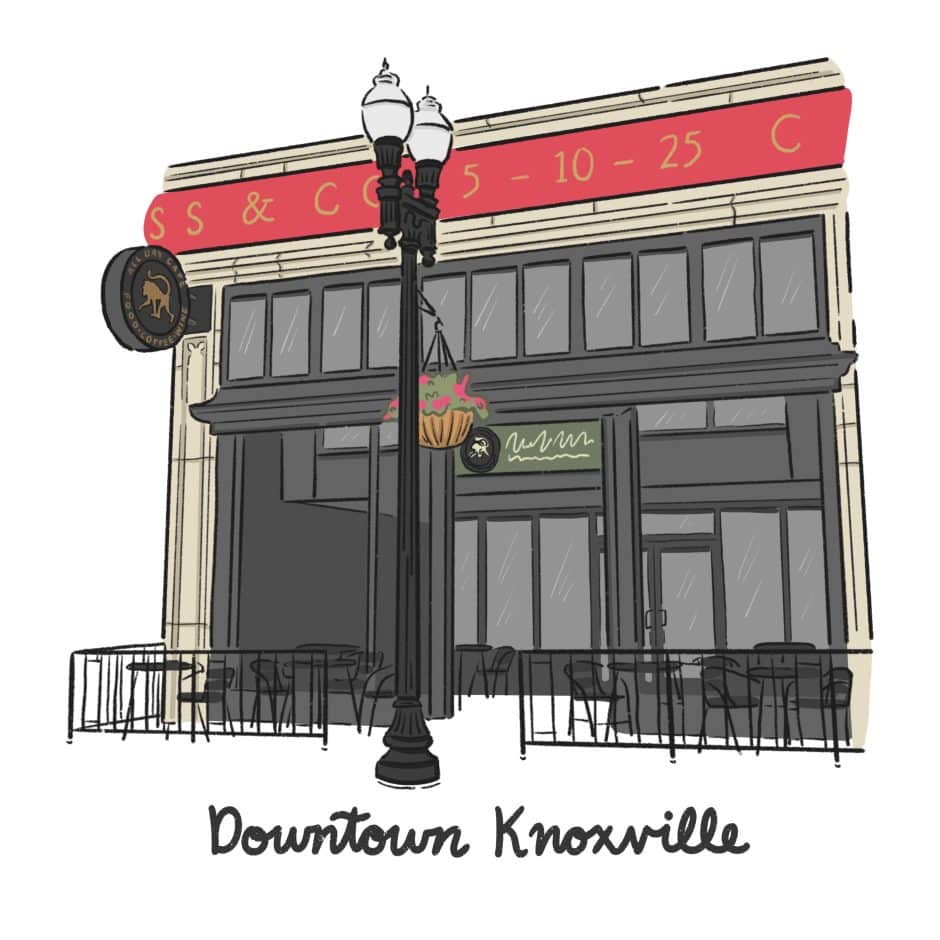 The cafe illustrations perfectly captures little details our neighbors love like string lights, hanging planters, and perfect patios. At this time, these designs are only on our locations page. Not to worry though, we have a few ideas on how to get these adorable illustrations in your hands, too! 😉
We love showcasing our creative neighbors! We were lucky enough to sit down for a chat with Paris to learn a little more about her and her reflection on this project.
A Chat with Paris Woodhull
About Paris Woodhull Illustrations
A Mechanicsville native and self-titled 'vanilla latte connoisseur', Paris says her creative upbringing had a big impact on her vision as an artist. Her father was a writer and her mother was a magazine editor. "From age six, I was proclaiming to the world that I was going to be an artist." Paris says.
After getting her Bachelors of Fine Arts from University of Tennessee and a bite from the entrepreneurial bug, it was her will and hard work that made her storefront a reality in 2022.
(Photo: Mike Hallman @mike.hallman)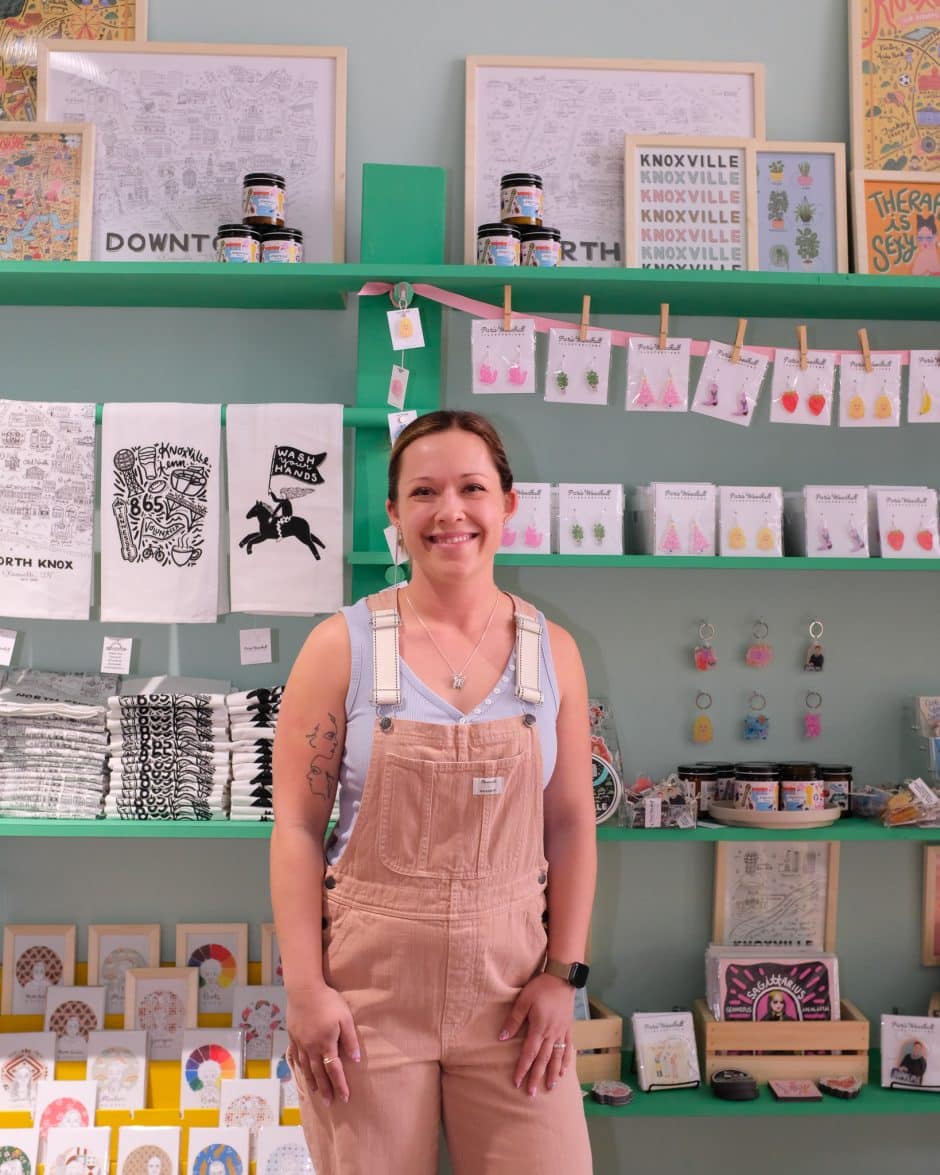 Paris Woodhull Illustrations is more than a retail store. Approximately two-thirds of the space is dedicated to screen printing and production, while the first third is retail.
Paris says, "A huge part of opening this space was to create a place to teach others, specifically women, and myself screen printing. […] When you look up tutorials on how to do production screen printing, there isn't much female representation."
"I would say I'm self taught, but screen printing is kind of like tattooing," She continued, "You can't really go to school for it, and it's really a community of shared knowledge and connections that helped me." (Shout out to Borderland Tees, Jared Brewster at Circa Wear)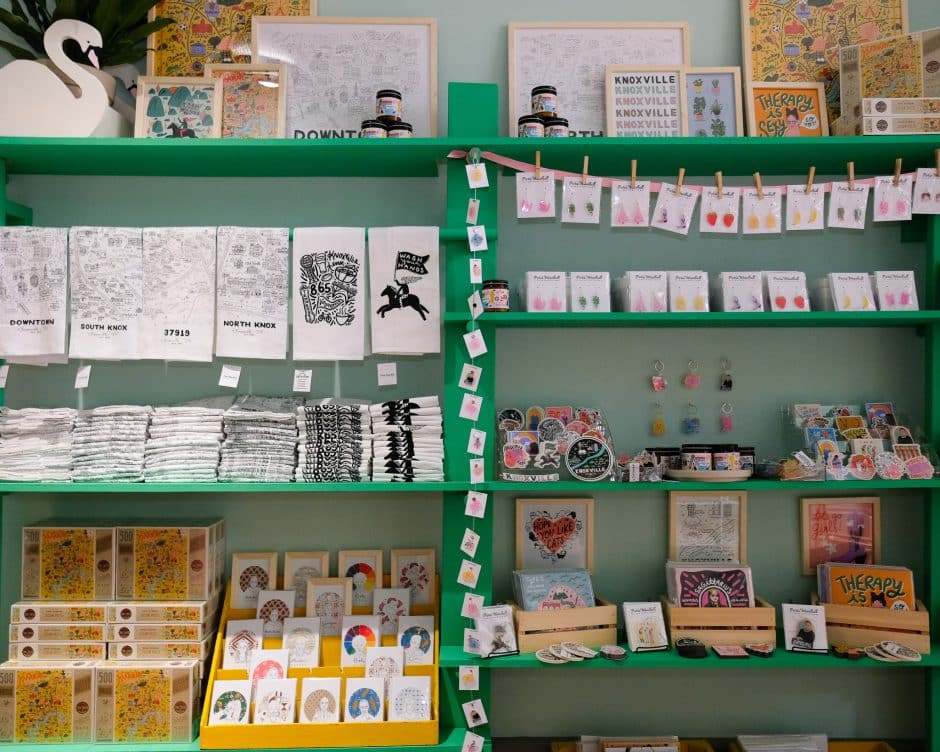 While she continues to improve her skills, Paris has her hands in all kinds of artistic endeavors. We were lucky enough to get some face time with her at the holiday Porter Flea market, where she showcased a number of her retail items. When she's not face to face with customers, Paris is busy with painted and vinyl murals, screen printing, wholesale partnerships, retail store management, and client projects.
Advice for Artists
We asked Paris what her best advice for artists might be if they want to be an artist full-time. She said, "Always have multiple streams of income and diversify your clientele. Secondly, know that you can do anything, but it's a lot of hard work. Know yourself, and trust that even though you might not sleep sometimes…it's worth it. […] I've been really lucky to have people that believed in my vision and came along for the ride with me, because I could not have done it by myself." (Another shout out to Chloe Melton and Sarah McCandless!)
Small Business Resources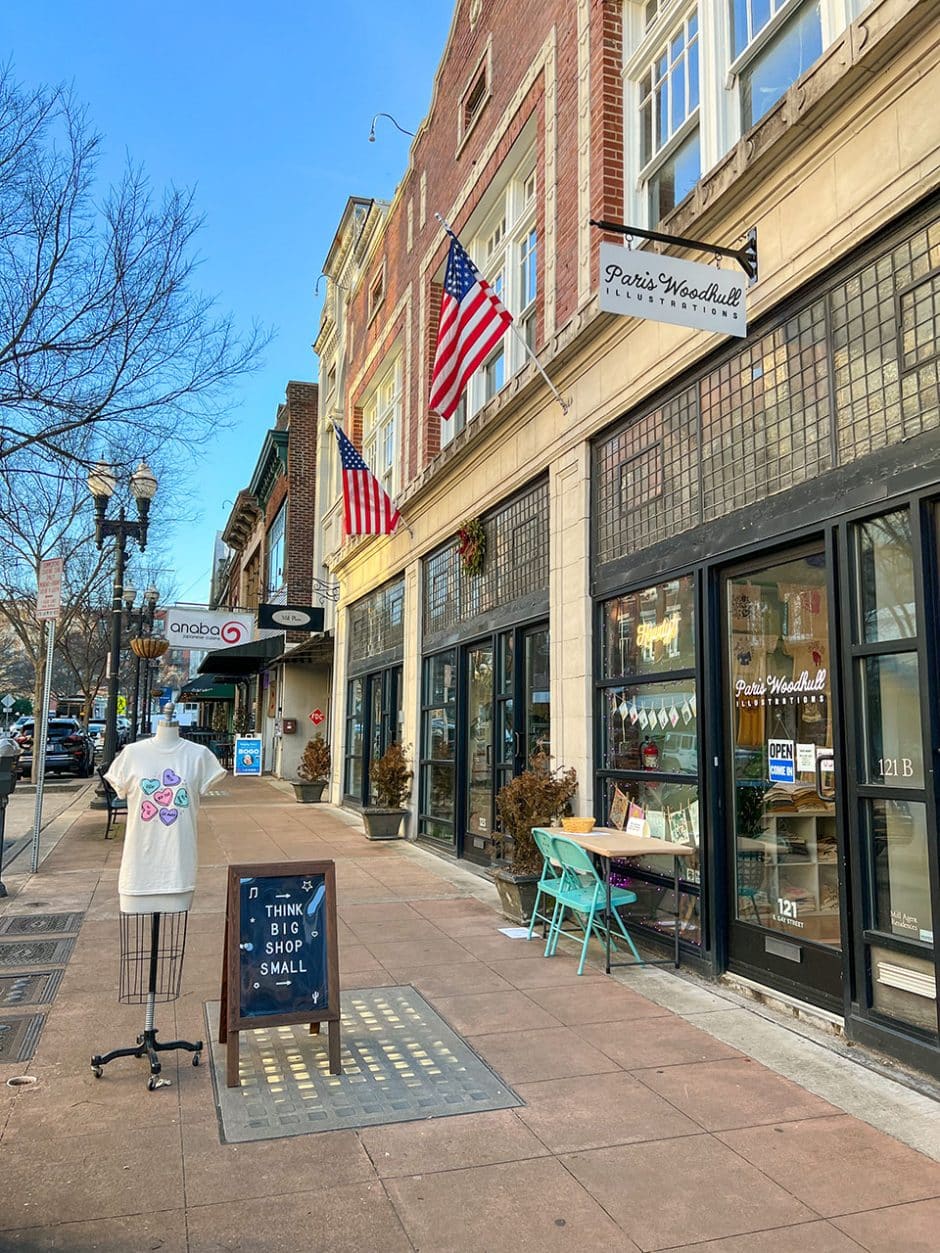 Interested in opening your own small business in Knoxville?
Here are a few Local Knoxville resources for small-businesses and entrepreneurs that Paris loves.
The Maker City – https://www.themakercity.org – "We help makers make an independent living doing what they love"
Knoxville Entrepreneur Center – https://knoxec.com/ – "Whether it's a high-growth startup or taking the next step in a handmade business, we are creating space for big ideas."
Small Business Development Center – https://tsbdc.org/ – "Get the resources and expertise you need to start, grow, and sustain your business."