We're here for the holiday cheer. Follow the 7th annual Downtown Knoxville Peppermint Trail to Frothy Monkey on Gay Street in Downtown Knoxville!
We're serving up original recipes with a peppermint flair from our own baristas and bartenders. These cocktails and coffee drinks are available November 25th – January 8th.
Frothy Monkey Peppermint Trail Drinks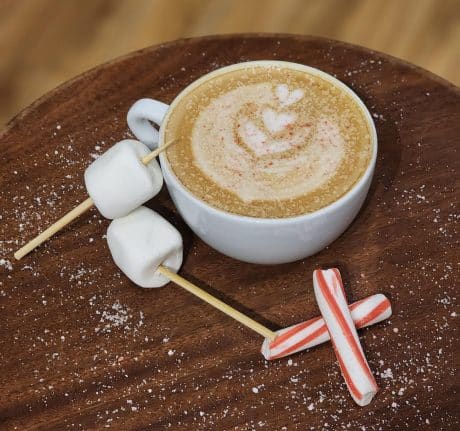 Peppermint Marshmallow Latte
Created by: Lead Barista, Scott
Hot or Iced, enjoy house-made peppermint marshmallow syrup with steamed milk and espresso. Garnished with peppermint flakes and a fluffy marshmallow.
For the kiddos, we also have peppermint mocha steamers made with Frothy Monkey Peppermint Syrup , or you could order this latte with no espresso for a Peppermint Marshmallow steamer*!
*steamer – steamed milk + flavored syrup.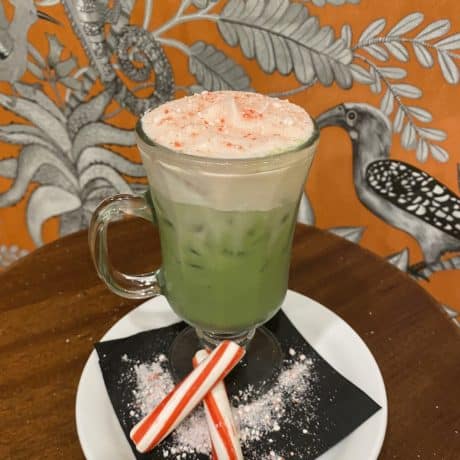 The Grinch
Created by: Bar Lead, Em Bengyak
A fun play on a classic Christmas movie, The Grinch is made with Firepot Matcha, sweetened condensed milk with St. Germain and white rum. Topped with a house-made peppermint Campari whipped cream. 
This jolly green drink is fit for a Whobilation!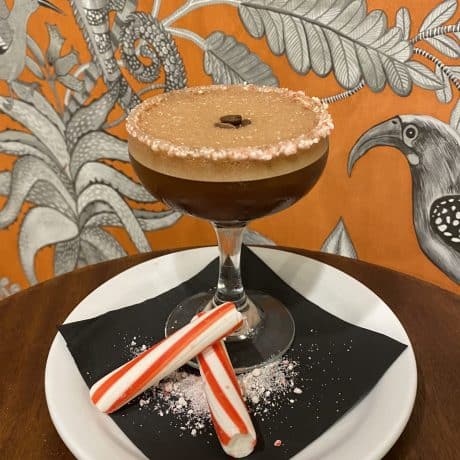 Peppermint Mocha Martini
Created by: Bar Lead, Em Bengyak
Get a little boost with this elevated espresso martini. This handcrafted cocktail is made with Frothy Monkey espresso, and house-made peppermint mocha syrup.
Stop in to Frothy Monkey before heading to your favorite Knoxville events like Holidays On Ice, The Winter Farmers Market with Nourish Knoxville, and more! For an extensive list of holiday festivities visit Downtown Knoxville's Festivals and Events page.
Don't forget to tag your Peppermint Trail photos with @frothymonkey and #knoxpeppermint!
For Neighbors that love a cocktail crawl
Check out this Holiday Cocktails list put together by Downtown Knoxville.
For Neighbors looking for a Sweet Treat
Find all of the sweetest treats in Downtown on the Peppermint Trail Treats List.